About Jasbinder Bilan
Jasbinder Bilan is the author of the Costa Children's Book Award-winning Asha & the Spirit Bird, and her new novel Tamarind & the Star of Ishta is due to be released this autumn. Perfect for middle-grade readers, Jasbinder's writing is vibrant and original, offering the reader magical-realist adventures set against the gorgeous landscape of India.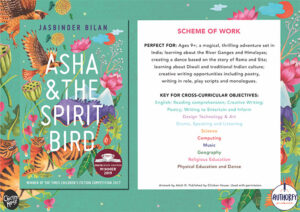 You can find many brilliant resources for Asha & the Spirit Bird on Authorfy, and be sure to take a look below for videos and more from Jasbinder herself!
View Jasbinder Bilan's page
@jasinbath
Books
Videos