Meet our fifth shortlistee
Posted by Jazz on Friday June 15th, 2018
Amy Bond is our fifth and final shortlistee - she's shortlisted for her magical middle grade story Morgana Mage in the Robotic Age!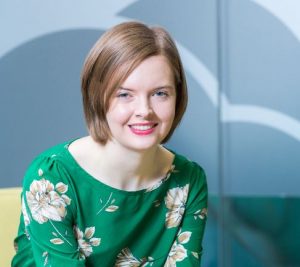 Amy is an Irish writer, from Kildare but now living in Dublin. She has loved books for as long as she can remember, and once she realised the books she loved were created by writers, she wanted to be one of those. Her passion for reading led her to study English literature in University, though the books of her childhood continued to be the ones that held the most magic for her. She then got her Masters in Library and Information Science. Though she quickly realised librarianship wouldn't involve as much reading as she hoped, she loves the job nonetheless.
Can you describe your journey as a writer so far?
I loved writing and dreaming up stories from a very young age, but this creativity was neglected for work and study as I got older. Over the past few years I have recaptured that joy I found from creating my own worlds, but also learnt the discipline needed to not only finish my book, but also to then rewrite it all over again a number of times.
What is your shortlisted story about – can you give us the 'elevator pitch'?
In a future where magic folk live in the open, though on the fringes of society, Morgana Mage is a witch girl who defies convention to follow her dreams of living in the world of robots and technology that surrounds her. This brings scorn on her from the magic community, and she is greeted by more hostility when she starts her new school in the city. She is saved from despair by the friendship of one boy in her class, Jonathan, who shares her passion for all things robotic. Their technological enthusiasm sets off a series of events which could lead to the destruction off all mankind, unless they can save the day.
What is your top writing tip for people thinking of entering the competition next year?
Practically, I would say to set small manageable goals, and allow yourself to enjoy the pride of achieving them. But most importantly, find the story that you really want to tell, and create characters that will lead the way for you.
Find out more about the Times/Chicken House Children's Fiction Competition!