*UPDATED* Online reading and COVID-19: the low down
Posted by Jazz on Tuesday January 12th, 2021
*UPDATED FOR 2021 – PLEASE READ*
These are challenging times for all of us and we are particularly sensitive to the needs of children to continue their learning and to reap the many benefits that literature brings them.
Chicken House have a range of resources to support home learning use by educators, administrators, and families listed below.
Chicken House
Resources
The Schools' Hub – a vast collection of teaching notes, chapter-by-chapter resources and videos, all relating to our books. This includes: WHO LET THE GODS OUT, BEETLE BOY and DARWIN'S DRAGONS.
#CoopedUpKids – a video-based resource that's full of reading and creative writing inspiration from many of our favourite authors.
First chapters for all Chicken House books are available on our website. Simply search for the required title, or explore through the 'Books' page, and you'll find the first chapter available as a PDF download.
Having reviewed the resources we are providing and taking account of the need to protect the copyright in our books we can confirm that online readings of books published by Chicken House are subject to the following conditions which apply throughout England, Scotland, Wales and Ireland. 
Online learning through schools
Whilst schools are continuing to teach remotely, online readings can take place through a password protected area of a school's website or through platforms such as Google Classrooms or similar.  Online readings should not be made publicly available online and only accessible by the students of the school.  The readings must be removed from the platform as from 1st April 2021.
Photocopies of books should continue to be carried out as per the terms of your CLA licence.
Should you have any queries regarding the use of our books by schools please contact elinor@chickenhousebooks.com.
Online readings by public libraries and bookshops
– A maximum of two books may be read for each of January, February and March 2021. 
– All videos are to be live or pre-recorded live readings and can be shown on the relevant library's official website or Facebook channel at the time of the reading only. 
– Videos are not to be made available for download or publicly available on any other social medial or digital platforms.
– The author and the illustrator (if any) are both fully credited together in the video.
– Chicken House is mentioned either in the video or in the description.
– No charge is allowed for these reading sessions.
***
For any other required usage of any of our books whether in part or in full please contract Kesia Lupo on kesia@chickenhousebooks.com.
Thanks for taking the time to read this update. Here's to staying happy and healthy!
New Reads: January 2021
Posted by Jazz on Friday January 8th, 2021
Silver linings
One day soon, we'll stop beginning blog posts with mentions of lockdowns and homeschooling and bookshops closing. While it might not be the start of the year that we were all hoping for, it is a time for staying put and looking for the silver linings.
For us (and hopefully you) that means finding joy in NEW BOOKS!
This January, we've three incredible middle grade adventures to share with you all. Find out more below, and remember your local bookshops in these strange times – they need us now more than ever!
Darwin's Dragons
It's 1835. Cabin boy Syms Covington is on the voyage of a lifetime to the Galapagos Islands with the world-famous scientist Charles Darwin.
But when Syms falls overboard during a huge storm, he washes up on an unexplored island. Stranded there, he makes a discovery that could change the world ... Now it's not just his own survival at stake – the future of an undiscovered species is in his hands.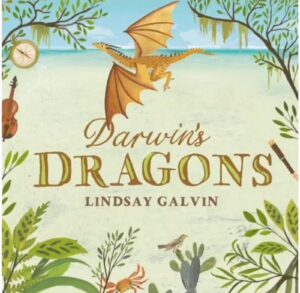 DARWIN'S DRAGONS is a rip-roaring historical adventure which is perfect for use in the classroom. For teachers, we've a whole host of learning materials and videos for you to use in our Schools' Hub.
Read the first chapter here.
Buy your copy now here.
Space Oddity
You might think that this story is going to be an intergalactic adventure filled with UFOs, black holes, killer robots and some very foul-smelling aliens. And you'd be right. But it's mostly about a boy called Jake, his embarrassing dad, and the mind-boggling question . . . are we really alone in the universe?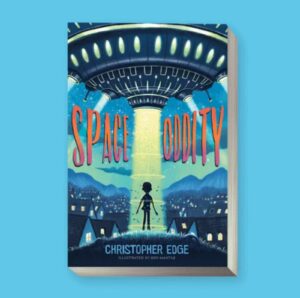 Inspired by the iconic Bowie song and from an original idea by Sarah Ryan, Christopher Edge combines science, comedy and adventure in SPACE ODDITY, featuring out-of-this-world illustrations from Ben Mantle! 
Read the first chapter here.
Buy your copy now here.
Morgana Mage in the Robotic Age
Morgana loves robots and longs to attend robotics school in the city.
But she's a witch, living in a magical woodland community: the closest she comes to technology is petting her ancient mechanical familiar, Kitty. She simply doesn't belong. But when she finally finds a way to the City, she learns of a troubling secret hiding beneath its gleaming surface: a secret that threatens the balance of civilisation.
Caught between two worlds, only Morgana has the power to find a solution …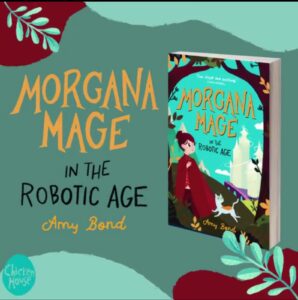 The debut novel from Amy Bond, MORGANA MAGE IN THE ROBOTIC AGE is an incredible unique and heartwarming middle-grade adventure, perfect for fans of both science and magic.
Read the first chapter here.
Buy your copy now here.