A letter from Virgo ...
Posted by Jazz on Friday April 24th, 2020
Virgo, star of Maz Evans's Who Let the Gods Out series, has popped by the blog to share what the Gods are up to during this very strange time ... (more…)
Introducing #COOPEDUPKIDS!
Posted by Jazz on Tuesday April 7th, 2020
Presented as a digital festival of sorts, #COOPEDUPKIDS is a way of bringing the fun inside while we weather these strange lockdown times together.
While everyone's cooped up inside, we're serving up all the creative content you'll need to have fun with the kids and help their imaginations fly!
#COOPEDUPKIDS has four strands running side by side. Each week, every Wednesday and Sunday, we'll be sharing our brilliant authors reading aloud the first chapter of one of their books - these are our #COOPEDUPKIDS Story Sessions. Soon, we also hope to bring you our #COOPEDUPKIDS Author Interviews, where the writers themselves will be able to answer burning bookish questions!
We'll also be bringing you our #COOPEDUPKIDS Author Event Specials! These aren't your average book readings - oh no. The Author Event Specials are more akin to the sessions that our authors would run in schools or at book festivals, and you'll be able to watch from your own sofa.
Lastly, no Chicken House festival would be complete without the opportunity to get your hands on some new books. With our #COOPEDUPKIDS Downloads and Competitions, you might well have the chance to win some new stories! We'll also be dishing up some brilliant printables which we'd love you to share with us once completed.
You'll find all of this awesome content on the dedicated page in our Schools' Hub. Don't forget - we've also got heaps of educational resources for many of our bestselling books here too.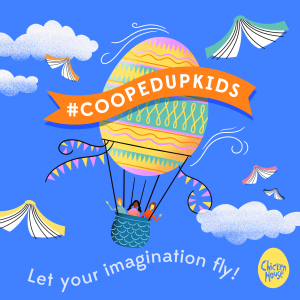 Be sure to also keep an eye on our Twitter, Instagram and Facebook pages as we'll be sharing a weekly #COOPEDUPKIDS schedule every Monday, as well as sharing all the content when it's live!
Let's get cracking!
New reads: April 2020
Posted by Jazz on Wednesday April 1st, 2020
What a difference a month makes, hey!
It feels especially weird to be writing and shouting about all the new books we've got coming out this April given the state of the world, but with everything that's going on, perhaps new books are exactly what we – and the kids we're supporting – need?
From intense-but-addictive dystopia in THE LOOP to the latest instalment of everyone's favourite spider, MILTON THE MEGASTAR, there's escapism aplenty from the coop this April. We're also hatching some exciting plans to help you support creativity at home while the schools are closed, so keep your eyes peeled!
Keep safe, stay happy, and support your independent bookshops where you're able. We've got this!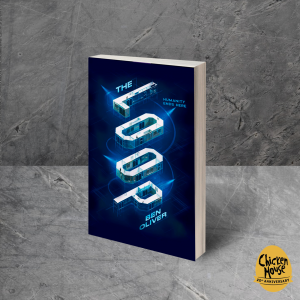 You do NOT want to miss the new YA that's set to take the world by storm this spring.
Luka Kane has been inside hi-tech prison the Loop for over two years. A death sentence is hanging over his head but his day-to-day routine is mind-numbingly repetitive, broken only by the books brought to him by the sympathetic warden, Wren. Then everything starts to change: rumours of war are whispered in the courtyard and the government-issued rain stops falling.
On Luka's last, desperate day, Wren issues him a terrifying warning: breaking out of the Loop might be Luka's only chance to save himself – and the world …
Read the first chapter and order your copy here.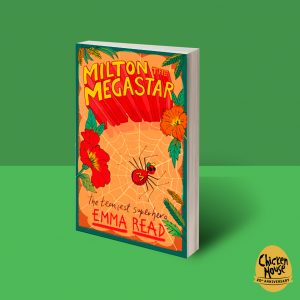 Introducing the second instalment in Emma Read's fun, fresh spider adventure series! Milton's superstardom is stressing him out: the events, the glamour, the adoring fans! So when the promise of a holiday to Hawaii arrives, everyone's a little relieved. But with a live volcano, an endangered spider species, an unscrupulous entrepreneur and Milton's ego to contend with, this is hardly a restful holiday …
Read the first chapter and order your copy here.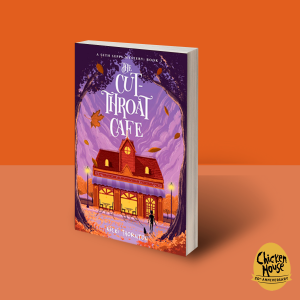 The third novel in the Seth Seppi mystery series THE CUT-THROAT CAFE, Seth and his talking cat Nightshade arrive in the magical town of Gramichee to gain an apprenticeship.
But he soon discovers that the existing apprentices are under attack at the town's Scrumdiddlyumptious Cafe, which is far more deadly than it is delightful. Seth's got his hands full, as usual. Can he discover who's murdering the apprentices, and stop them before they strike again?
Read the first chapter and order your copy here.
The New York Times bestselling series returns for a triumphant fifth adventure!
After starring in three adventures, the inimitable quartet of Reynie, Sticky, Kate, and Constance haven't had a mission together in some time. But with the arrival of a new Society member – and a new threat – they must reunite to face dilemmas more dangerous than ever before, including the return of the villainous Mr Curtain and his Ten Men and a formidable enemy with a mystifying ability to track their every move.
Read the first chapter and order your copy here.
Don't forget – you can stay up-to-date on all things Chicken House by following us on

Twitter

.
See you there!