READY, SET … OPEN COOP!
Posted by Jazz on Thursday August 26th, 2021
Do you wish you had a professional editor on board to help you develop your children's novel? Well, this opportunity might just be for you! (more…)
Richard Pickard's Journey to Publication
Posted by Jazz on Friday August 20th, 2021
I first became aware of Chicken House in late 2015, in a bar at the National Theatre.
I was there to celebrate my friend Sam's birthday, and many of his colleagues from the theatre were there too. One of those colleagues was MG Leonard, who Sam was excited to introduce as the soon-to-be-published author of Beetle Boy.
At this point I'd only just begun to secretly tinker with an idea for a children's novel of my own, doodling an inky picture of a dilapidated pier, cut off from the land and swaying in the tide on four stilt-like legs. The image had come to me from my love of Brighton's West Pier, and the thought of who might make a home in such an inhospitable environment ... a boy who is part-fish, of course!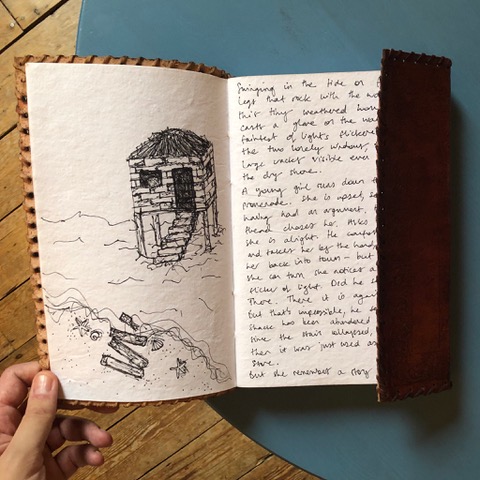 I'd never met a real-life children's author before those fateful drinks at the National. I had loved the idea of becoming one as a kid, and had developed into a voracious reader in my teen years. But like those other childhood dreams of going into space or running off to join the circus, being an author was not something that had ever seemed realistic. And yet, here was a children's author soon to be published by Chicken House. Sitting at the same long table as me and my friends.
Despite having only a few chapters of my secret novel on the page, I couldn't resist looking at the Chicken House website to see how, one day, I might be able to get their attention myself. Like most other publishing houses, Chicken House doesn't accept unsolicited manuscripts, but I was intrigued to find details of The Times/Chicken House Children's Fiction Competition. I made a mental note and promised myself that one day – when I finally had a finished novel – I would enter.
That day came over three years later, once I'd finally found the time to finish a draft of my story, then called Something Fishy. I knew the competition was a longshot but in early 2019, as I went to read the entry requirements for the umpteenth time, I was happy to find that my chances had been doubled by the addition of a second prize – the Chairman's Prize – which would be awarded to a work that required slightly greater editorial input than the overall winner. I knew that if I had any chance of winning a publishing deal, this might be it.
I was sitting at my desk at work a few months later when an email came through from my now-Editor, Kesia, telling me I was longlisted for the prize. I didn't think my heart would ever beat that fast again, until a few weeks later an unknown phone number based in Somerset popped up on my screen. I knew immediately it must be Chicken House, and when Barry Cunningham's voice came down the line to tell me I'd made the shortlist I almost exploded.
So, it was with a great amount of nerves and excitement that, along with five other talented writers, I descended on London's Zetter Townhouse for lunch with the judging panel. This esteemed group, including the author Nikesh Shukla and Waterstones buyer Florentyna Martin, had spent the morning discussing our novels. After the main course, Barry Cunningham stood to announce the winner – Children of the Quicksands, by Efua Traoré, followed by the recipient of the inaugural Chairman's Prize ... me!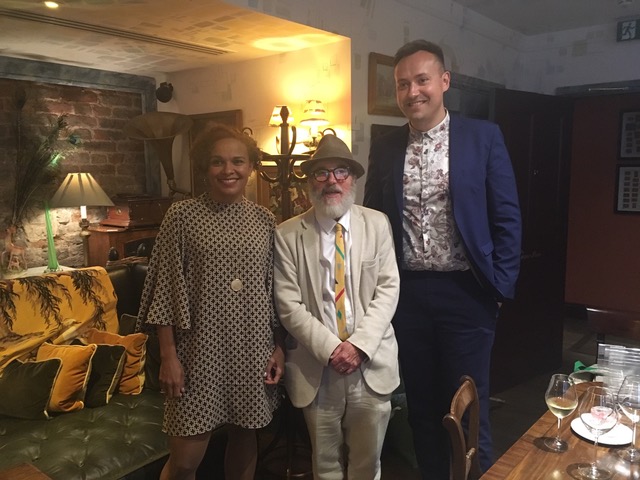 My entire journey to publication has felt incredibly surreal. From that chance meeting at the National Theatre, to the time I scanned a middle-grade section of a bookshop and found a literal space on the alphabetised shelf where a novel by someone named Pickard would sit. Two years on from winning the Chairman's Prize and I've spent the last few weeks visiting bookstores to see The Peculiar Tale of the Tentacle Boy filling that very same space. Copies have been piled high on tables, face-out on shelves, and even sitting proudly in several windows – the cover's blue foil glinting in the sun.
If you're reading this and have a novel in progress, or perhaps a finished draft gathering dust in a drawer, then take a chance and enter the competition when it next opens in October. For me, it provided the end goal I required to keep moving forward with my draft as year after year I saw successful entries popping up in bookstores. I couldn't have asked for a better home for my novel, and from working on the edits, to seeing my beautiful cover by Maxine Lee-Mackie for the very first time, the entire process has felt like a waking dream. 
Now, I'm overjoyed to be drafting my second novel for Chicken House and am thrilled I get to ride this most-fantastic merry-go-round all over again.
Find out more about submissions here.
It's shortlist time!
Posted by Jazz on Tuesday August 17th, 2021
The IET and Times/Chicken House Shortlists 2021
We are so very excited to announce the shortlists for the Times/Chicken House Award and the IET 150 Prize! Whittling down our longlists was a tough challenge and we'd like to say another huge congratulations to everyone who found their way to the final 24 out of nearly 1,000 submissions. We salute you!
Unfortunately, we had to choose our shortlists and we can honestly say the following eight titles are diverse, original and totally stand-out – they run the gamut of middle-grade to top YA and feature authors who submitted from Egypt, Australia and Belgium as well as the UK. Our shortlisted stories whisked us through a number of gorgeous settings, including an Egyptian time-travel school, a neo-noir urban-fantasy London, a Wicker Man-esque island and a quasi-Caribbean archipelago. We've been charmed by a host of incredible characters: an enigmatic crow, a friendly robot, a very determined Victorian inventress and an asexual teen who is cursed never to tell the truth. Congratulations to all the authors of these wonderful novels!
So (drumroll please …) our Times/Chicken House Award and IET 150 Prize shortlists!
TIMES/CHICKEN HOUSE AWARD
Fatima and the Invisible Necklace by Laila Rifaat 
The Flood Child by Emily Randall 
Obsidian Heart by Philippa Peall 
The Portland Place Mystery by Nicola Whyte 
The Vengeful Son by Amie Jordan 
IET 150 PRIZE
The Cipher Engines by Henry Coles
Jeremy Gill is Not the Chosen One by Jackie Jones 
The Remarkables by Ali Stegert
***
Congratulations again to everyone on the shortlists! Now, these are off to our two separate panels of judges who will help us decide the winners, to be announced in October … watch this space!
Want to enter next year? Find out more about the Times/Chicken House Children's Fiction Competition.