Introducing … the Schools' Hub!
Posted by Jazz on Wednesday February 26th, 2020
Pssst
–
did you see? Something new and exciting has hatched on our website!
Calling all teachers, librarians and book club leaders! We've been busy chickens, working with some of the best Tweachers around to put together a whole bunch of resources to be used with young readers.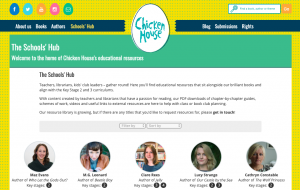 With downloadables on our bestselling titles, sitting across many of the key stages, the Schools' Hub can act as your one-stop-shop for chapter-by-chapter guides, author tips, videos, activity sheets and HEAPS more!
Check it out here – but don't panic if you can't see what you're after just yet. We'll be continuously adding to it, and you're more than welcome to request resources by emailing publicity@chickenhousebooks.com or getting in touch on Twitter, @chickenhsebooks. 
Create a Story
Along with all this educational goodness, we've also got something up our feathery sleeve to help inspire the next generation of writers: Create a Story!
Starring four of our authors – Maz Evans, Christopher Edge, Holly Rivers and Emma Shevah – we've created a short video designed to be used by schools, libraries and book groups in World Book Week and beyond.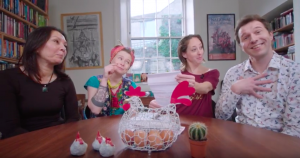 We've also created downloadable worksheets to use alongside the video, including author writing tips to encourage pupils to create their own stories through a game of Story Consequences.
Take a look here, and share your finished stories with us on Twitter using #ChickenHouse20. We can't wait to see what your students come up with!
Enjoy!
New reads: February 2020
Posted by Jazz on Wednesday February 5th, 2020
If February is the season of love, then shower us in rose petals and plonk a kiss on our feathery cheek because COR do we have some treats for you! (more…)
Celebrating 20 years of Chicken House Books!
Posted by Jazz on Monday February 3rd, 2020
Throughout the whole of 2020 (and especially in April), we're celebrating our 20th birthday!
Of course, we're marking the occasion in the best way we know how – with a lot of new books!
New books from top authors
We've got new work coming from Jasbinder Bilan (ASHA & THE SPIRIT BIRD), winner of the Costa Children's Book Award, as well as Kiran Millwood Hargrave (THE GIRL OF INK & STARS, THE ISLAND AT THE END OF EVERYTHING and THE WAY PAST WINTER) and Christopher Edge, who we're very excited to welcome to the coop. 
Brilliant debuts
There's also a stash of debut delights coming from Angharad Walker (THE ASH HOUSE), Ben Oliver (THE LOOP) and Holly Rivers (DEMELZA AND THE SPECTRE DETECTORS). Be sure to keep your eyes on our Twitter for more info!
Old favourites, new designs
And, if that's not enough to be getting on with, we're also incredibly excited to say that we'll be reissuing some of our classics with stunning new covers. The INKHEART series by Cornelia Funke, MARTYN PIG and LUCAS by Kevin Brooks and BILLY ELLIOT by Melvin Burgess are just a few of the 10 to look forward to!
Giving back
We're also marking our 20th year by working with BA independent booksellers and Coram Beanstalk to provide free books to young readers in need across the UK, and we'll be working with Waterstones to help build their reading clubs for dedicated bookworms too.
For hard-pressed educators, we've also put together a whole new section of our website – the Schools' Hub – to help support the use of Chicken House texts in the classroom, library or book club, all for free! Check it out here. 
Phew! Of course, there's even more to come (what's a milestone birthday if not an excuse to really go for it?), but more on that later . . .