Children's Fiction Competition: Selling winners around the world!
Posted by Elinor on Wednesday August 5th, 2015
The Times/Chicken House Children's Fiction Competition is one of the most long-lasting and exciting publishing initiatives that Chicken House has done in terms of getting people interested in our new titles abroad. And to help this, we always make sure we have at least one judge who is a highly experienced publishing professional who knows the market overseas. (more…)
Chicken House acquires MOTH AND THE NIGHTINGALE
Posted by Jazz on Wednesday February 11th, 2015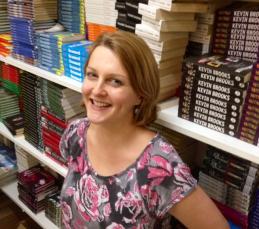 We're very excited to announce that we've recently acquired the debut novel from Lucinda Martin (right), MOTH AND THE NIGHTINGALE.
A poetic middle-grade novel, MOTH AND THE NIGHTINGALE tells the story of Henry, a young girl from a grieving family, whose life changes when she meets a witch-like old woman who lives in the woods. Her name is Moth. As Britain finds itself moving towards war, Henry turns to Moth for help - but soon realises she may be hiding some dark secrets of her own.
Chicken House's MD Barry Cunningham says, 'We are proud to publish Lucinda Martin's subtle and surprisingly modern interpretation of the lonely, bookish child, and some almost magical events in an enchanting house and wood, set between the wars.'
Our lovely Editorial Director, Rachel Leyshon, acquired MOTH AND THE NIGHTINGALE from Luigi Bonomi Associates in a world rights deal. It will be hitting the shelves in 2016 - keep your eyes peeled!
Follow Lucinda Martin on Twitter: @lucymartin
Follow Chicken House on Twitter: @chickenhsebooks
Follow Chicken House on Instagram: @chickenhousebooks
Chicken House Announces The Publication Of A New Book In The No.1 New York Times Bestselling Maze Runner Series By James Dashner
Posted by Jazz on Thursday October 9th, 2014
Prequel novel to The Maze Runner to be published in 2016
The Maze Runner movie reaches #1 at the box office on opening weekend in USA
Twentieth Century Fox movie opens in the UK 10th October
Book two, The Scorch Trials, to release as major motion picture Autumn 2015
Somerset, UK. 7th October 2014 - Chicken House Publishing Ltd. will publish the fifth novel in James Dashner's #1 New York Times bestselling Maze Runner series, which has sold 7 million copies worldwide, as announced today by publisher Barry Cunningham.
THE FEVER CODE reveals the time directly before The Maze Runner and will tell the story of how Thomas, Teresa and the Gladers found themselves trapped in the Maze and how it was created. Dashner's The Maze Runnner movie will be released in cinemas in the UK on 10th October. It opened last month in the USA at #1 at the box office. The deal, which includes UK, Commonwealth and Open Market rights, was brokered by Barry Cunningham, Publisher, Chicken House and Caspian Dennis at Abner Stein on behalf of Lauren Abramo at Dystel & Goderich Literary Management.
The second movie based on the series, entitled Maze Runner: The Scorch Trials, is scheduled to release on 18th September 2015.
'From the very beginning, I've always wanted to write a prequel about Thomas, Teresa, Newt, Minho, Alby and all the Gladers that leads up to the very moment Thomas enters the Box. There are so many things hinted at that will be fun to reveal in depth. For years, fans have made it abundantly and enthusiastically clear that they want the same thing, so now seems like the perfect time to give readers the story of how the Maze began.' JAMES DASHNER
With 7 million copies of the series sold (whose titles include The Maze Runner, The Scorch Trials, The Death Cure, and The Kill Order), a major motion picture from Twentieth Century Fox of The Maze Runner - which opened at #1 in 62 countries to date, and will have rung up over $200 million in ticket sales after opening in the UK and Italy this weekend- and a second major motion picture slated for The Scorch Trials, the series continues to gain fans worldwide.
'We are delighted to be James' publisher and to see the rise, and rise, of his pulse-pounding Maze Runner series, now about to reach an even wider audience this week with the UK movie opening. More than any other author we have had the good fortune to work with, James understands and believes in his audience. We are thrilled to be part of sharing THE FEVER CODE, the new book he felt compelled to write.' BARRY CUNNINGHAM
James Dashner is the award-winning author of the #1 New York Times bestselling Maze Runner series. Born and raised in Georgia, Dashner now lives in Utah with his family. You can follow James on Twitter @jamesdashner or via his Facebook page and website.
Chicken House Publishing Ltd was founded in 2000 by Barry Cunningham, Publisher, with Rachel Hickman, Deputy MD. Over the last decade, Chicken House has demonstrated that a small, creative publishing team based in England can make an impact on an international scale. Owned by Scholastic Inc., the world's largest children's publisher since 2005, Chicken House books are sold in the UK, Australia and New Zealand, and via its export companies around the world. In 2010, Chicken House Deutschland was set up with Carlsen, who publish the Maze Runner series in translation. Follow @mazerunnerbooks