Wondering what to do post-NaNoWriMo?
Posted by Rachel L on Tuesday December 6th, 2016
Finished that novel? Congratulations! Our wonderful Editorial Director Rachel Leyshon is here to help with the next steps ...  (more…)
TOP 5 FRIDAY: Tea Times
Posted by Kesia on Friday May 8th, 2015
We're big tea fans at the Coop, and we'll never say no to a sliver (read: wedge) of Victoria Sponge. Plus, after the Curses, Castles and Deaths of our last three top fives, we reckon it's high time for a bit of light relief. Well, light-ISH ...
1. Alice's Adventures in Wonderland by Lewis Carroll
'We're all mad here!' exclaims the Hatter. And indeed, this Tea Time Of All Tea Times - which lasts, literally, for ever - is characterised by unanswerable riddles and nonsensical poetry. And, naturally, tea. Turns out Time has punished the Hatter by evoking an everlasting six o'clock. Alice reckons it's the stupidest party she's ever been too, but I rather fancy an eternity of cake ...
MAY DAY OPEN COOP!
Posted by Kesia on Friday May 1st, 2015
It's May day - and the first bank holiday weekend of the year! Chicken House is celebrating with true spring spontaneity: for 24 hours only, we're accepting unsolicited submissions for mystery novels aimed at a middle grade (8-12) audience. If you've written a complete novel which fits these criteria, please email a one-page synopsis and the first three chapters of your manuscript to opencoop@doublecluck.com on MONDAY 4 MAY from 12am to 12 midnight.
We will read all submissions. If we would like to read your full manuscript, you'll hear from us within a month. Otherwise, you haven't been lucky this time, but watch out for the next Open Coop!
May the Fourth be with you...
TOP 5 FRIDAY: Deaths
Posted by Laura on Thursday April 30th, 2015
There's nothing better than a good story – one that makes you fall in love with the heroes and heroines despite all their faults. But the trauma of their deaths is something hard to get over … This week, Laura Myers shares five of the most memorable deaths in children's books – WARNING: MASSIVE SPOILERS ALERT!
1. SIRIUS BLACK in Harry Potter and the Order of the Phoenix by J. K. Rowling
The first significant death in Harry Potter – who didn't cry when Sirius fell through the veil? Harry's passionate reaction was painful to read, but Lupin's restrained grief was the killer for me. Just when Harry had a father figure in his life, he was cruelly snatched away. And those last words were not fit to be the last words of someone so brave and loyal … *sob*
2. AUGUSTUS WATERS in The Fault in Our Stars by John Green
Augustus' death was, in a word, harrowing. It was all the more painful because it was so real – agonizing and unheroic (in the traditional sense of the word). I put the book down and cried for a full twenty minutes because of that line: 'The only person I really wanted to talk to about Augustus Waters' death was Augustus Waters.'
3. CALLUM MCGREGOR in Noughts & Crosses by Malorie Blackman
One of the most traumatic scenes I read as a child, Callum's hanging left me reeling. They did it … they actually did it. And Sephy's agony at not knowing whether Callum had heard her professions of love was utterly heart-wrenching. If only he hadn't gone to the rose gardens …
4. MANCHEE in The Knife of Never Letting Go by Patrick Ness
So sweet, so loyal, so innocent. When I think of Manchee, I can see his puzzled eyes, hear his questioning thoughts, his yelps. One of the few fictional animal deaths that has reduced me to tears, Manchee's sacrifice will never be forgotten.
5. RABBIT in I Want My Hat Back by Jon Klassen
Not a sad death, but memorable all the same. They say a picture can tell a thousand words, and that's never been more true than the antepenultimate page in I Want My Hat Back. He totally had it coming, and I'm not ashamed to say that this one made me laugh.
TOP 5 FRIDAY: Castles
Posted by Jazz on Friday April 24th, 2015
Oh, to be lord or lady of one's own castle. The turrets! The moats! The ... other castley bits! Unfortunately, unless you're a royal in medieval Germany or a knight of the round table, the likeliness of owning your own castle is slim - luckily, there's a ton of children's books out there which describe beautiful castles so vividly that you almost feel like you're there living in them.
1. HOGWARTS from the Harry Potter series
As you're probably well aware by now, it's physically impossible for us to write a top 5 without including Harry Potter - but this one is justified. Arguably the most iconic moment of the first book is when Harry travels over the Great Lake and sets his eyes on the castle for the first time. Moving staircases, sneaky only-open-if-you-know-about-them rooms, trapdoors concealing almost certain death ... what's not to love?
TOP 5 FRIDAY: Curses
Posted by Kesia on Friday April 17th, 2015
We've all been there: just when everything seems to be going great, you get put under a curse. But fear not! For countless years, children's literature has been advising us how to get out of those sticky curse-related situations. Junior Editor Kesia talks us through her favourites ...
1. The Witch of the Waste's curse in Howl's Moving Castle by Diana Wynne-Jones
My go-to 'medicine book' (well-thumbed from childhood bouts of flu), Howl's Moving Castle is bursting with wicked magic. Matter-of-fact Sophie is cursed by the Witch of the Waste into the body of a stick-wielding crone, and sets off in pursuit of the dastardly, handsome, but terribly disorganised Wizard Howl, despite her new-found aches and pains. Her common sense and determination are proof a handbag-toting octogenarian can be as gritty as an Eastenders villain on a sharp gravel drive. The kind of old lady I want to be when I grow up.
2. Auryn's gift in The Neverending Story by Michael Ende
Our hero, Bastian, journeys through a mysterious book to the land of Fantastica, and retrieves a magical amulet, Auryn. On its reverse, he finds an intriguing engraving: 'Do what you wish'. So he wishes, and wishes, and wishes - and each one is granted: soon, Bastian is the hero of his own fabulous adventures. A gift, right? Erm, no. Wishes are the ultimate tricksters (read The Big Wish for an excellent example). With each wish, Bastian loses a memory of his life in the real world, and slowly but surely traps himself in Fantastica for ever ...
3. The enchanted rings in The Magician's Nephew by C.S. Lewis
Polly and Diggory are tricked by devious Uncle Andrew into a daring adventure. Four sparkling magic rings are keys to the strange and terrible portals of the Woods between the Worlds. Our heroes' first destination - the ruined, blood-sunned kingdom of Charn - haunts my nightmares still. The dead (or sleeping ...?) figures of its wicked monarchs range, enthroned, across the silent hall. And then (no thanks to blimmin' Diggory) the bell tolls, and the evilest of evil queens awakens ...
4. 'Formula 86 delay action mouse maker' from The Witches by Roald Dahl
The Grand High Witch's plot is truly diabolical - but what can you expect? England's witches, as you've doubtless heard, are utterly notorious for their ruthless pursuit of the ultimate witchy aim: the elimination of children. As our terrified child narrator hides from the witches' conference, the masterplan is revealed: sweetshops; free, delicious candy; a magical potion named 'Formula 86'. Anyone who consumes it is cursed to transform into a mouse. Eek! (Or rather, squeak!)
5. Sectumsempra from Harry Potter and the Half-Blood Prince by J.K. Rowling
I did try not to mention Harry Potter (honest!) but it's impossible! Its curses are inventive and excruciating, and - particularly for those of us on Slytherin's Unofficial Dark Side - possess a certain horrible allure. The mischievous curses are effective, certainly - the ear-shriveller, for instance, or petrificus totalus - while the floaty/screamy effects of the Opal Necklace are truly chilling. But for plot significance, you can't beat the Half-Blood Prince's ghastly invention, Sectumsempra, which Harry unwittingly casts against Malfoy ... to devastating effect.
What have we missed? Tweet us at @chickenhsebooks!
TOP 5 FRIDAY: Literary Crushes
Posted by Rachel L on Friday April 10th, 2015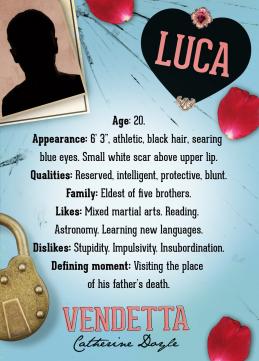 Setting aside the possibly unhealthy habit of fancying people in books rather than in real life (how can anyone ever measure up to Will Parry's determination to drift about in atoms until he finds Lyra again?) we are of course spoilt for choice in literary worlds. Here's a mix of suitable boys and very bad boys who only exist in our fevered imaginations - but we love them all.
1. THE FIRST CRUSH: Gilbert Blythe from Lucy Maud Montgomery's Anne of Green Gables
Although there's close competition from Laurie in Little Women (how could Jo dump him), the moment Gilbert pulled Anne Shirley's braid and called her 'carrots' is hard to beat. Handsome, persistent (for years), intelligent and romantic ('I don't want your friendship, Anne...'), Gilbert doesn't have ANY faults.
2. THE ALL-AMERICAN CRUSH: Jay Gatsby from F. Scott Fitzgerald's The Great Gatsby
Those infamous, expensive parties are all for Daisy and the promise of the green light at the end of the dock. Fabulously wealthy, he's just a dreamer at heart and gets it all wrong trying to impress one (undeserving!) girl. The serious 'lifetime achievement' vote in this category should go to Atticus Finch for inspiring moral courage that has endured for more than half a century.
3. THE DISTURBING CRUSH: Edward Cullen from Stephenie Meyer's Twilight
The noughties cannot be mentioned without him, or are we all thinking of R-Pattz? Disturbing because his Byronic looks, the sparkling marble skin, the superhuman abilities, disguise the fact that he's a terrifying predator. But as his fans would say, it's not his fault he's a telepathic vampire ...
4. THE CLASSIC CRUSH: Marius Pontmercy from Victor Hugo's Les Misérables
Tempting though it is to choose swashbuckling d'Artagnan or vengeful Edmond Dantes, the animal Heathcliff or the repressed Mr Darcy ('In vain have I struggled!'), it's the idealistic revolutionary Marius that wins our vote. Susan Fletcher's Eponine might have said she was only 'a little' in love but who was she kidding, really?
5. THE FIGHT-TO-THE-DEATH CRUSH: Luca Falcone from Catherine Doyle's Vendetta
Who would you trust when you're fighting for your life? In The Hunger Games there's Gale and Peta - difficult choice. In Catherine Doyle's Vendetta you get five hot mafia brothers - nightmare decision! But ultimately, are you on Team Nic or Team Luca? And before you ask, no - you can't have more than one ...
Who have we missed? Let us know by tweeting us at @chickenhsebooks!
TOP 5 FRIDAY (ish): Awesome Archers
Posted by Jazz on Monday March 30th, 2015
I know it's not actually Friday, but we were so excited about the announcement of this year's Times/Chicken House Children's Fiction Competition winner that there just wasn't any room to fit in a top 5 last week!
1. Robin Hood
Not strictly in a children's book, but Disney's classic animated film put him firmly on the metaphorical bow-wielding map. He's the original archer - the inspiration behind countless others, and is cool even as an anthropomorphic fox. Not bad going.
2. Katniss Everdeen from The Hunger Games trilogy
The girl on fire herself! Katniss is the YA heroine of the 21st century (Hermione excluded), and it's her power with a bow that makes her so awesome. She's the one out there providing for her family, shooting down deers and pheasants - just using her archery skills and her penchant for breaking rules. And let's not forget [SPOILER ALERT] ending the Hunger Games and initiating a revolution. Awesome.
3. Legolas from The Lord of the Rings trilogy
It's well-known that Legolas is a master archer and I'd like to say that it's his archery skills that earn him a place on this list ... but really it's the hair. Anyone that manages to have hair that long and glossy and not get it tangled in their arrows deserves a mention.
4. Susan Pevensie from The Chronicles of Narnia series
Susan has a bit of an unfair advantage by having a bow that never misses - but she's not one for slacking off, practicing as much as she can to make sure she's the best. And she becomes Queen of Narnia at the age of 12.
5. Merry Owen from Longbow Girl
Ah, I won't reveal too much here. Merry is a heroine for the past and present and very much deserves a place on the list - but you'll have to wait until September to find out why!
Are there any we've missed? Let us know by tweeting us at @chickenhsebooks!
TOP 5 FRIDAY: Gingers
Posted by Esther on Friday March 20th, 2015
There can't be many minority groups that are over-represented in children's fiction but we have a sneaking suspicion that redheads might be. Making up just two per cent of the population, we reckon at least one in ten children's books has a feisty, spirited girl character with ginger hair, pale freckled skin and green eyes that flash when her temper flares. And we're not knocking them - we wouldn't dare incur their fiery fury! Publishing Manager Esther, fan of all things ginger (especially her two sons), picks her top five red-headed characters.
1. Anne Shirley from Anne of Green Gables
She may have claimed that having red hair was a 'lifelong sorrow' - and there's no forgetting the time she accidentally dyed it green in a desperate attempt to have hair as 'black as the raven's wing' - but she embodies red from root to tip. Tease her for it and you'll be made to pay - just ask Gilbert Blythe! A blonde or brunette Anne would have been a literary flop. She will always be my kindred spirit.
2. Thirrin from The Cry of the Icemark
This girl can kick butt! How many thirteen-year-old princesses do you know who can take down a werewolf with their bare hands? A fierce, proud, fearless warrior with a blaze of red hair, her 'halo of wrath'. She may be the heir to the throne of the Icemark but forget blue blood, it's the red-headed blood coursing through her veins that makes her awesome!
3. Katie Morag from the Katie Morag series
The gentler setting of a fictional island off the west coast of Scotland is the home of Katie Morag. But gingers are rarely mild: Feisty? Tick! Creative? Tick! Unruly? Tick! I want to be her, roaming the island unaccompanied, wild Titian hair blowing in the wind. She is also a style icon - I dream of being able to rock the white Fair Isle jumper, tartan skirt, bare legs and wellies look ...
4. Mr Fox from Fantastic Mr Fox
I don't really believe that hair colour has any bearing on intelligence (some of the brightest people I know are blonde) but ginger-furred Mr Fox is as smart as they come, outwitting farmers for a pastime. He manages to be both shrewd and generous, the saviour of a host of starving underground animals. I want an invitation to one of his banquets ... oh, to feast on duck, goose and ham pilfered from Mr Bunce and down a few pints of Mr Bean's cider!
5. Ron Weasley from the Harry Potter series
I can't get away without mentioning Ron, perhaps the most famous ginger in children's fiction, and good value for money as he brings with him six ginger siblings. Ron is funny, brave and a loyal BFF to Harry. For the most part he handles being a sidekick, having an awful name and being teased for being poor with charm and dignity. And although he does have the typical temper, there's nothing wrong with wearing your heart on your sleeve. Good choice Hermione!
Any other flame-haired favourites to add to the list? Tweet us @chickenhsebooks!
TOP 5 FRIDAY: Horse stories
Posted by Rachel H on Friday March 13th, 2015
We couldn't include a top five cat list without considering our top five horses! Here's Rachel Hickman on the horse friends that have stood the test of time.
1. For determined girls who love ponies, Patricia Leitch's For Love of a Horse is unforgettable. Jinny lives in the Scottish highlands with Shantih the chestnut Arab, who she saves from an accident and who - as she thrillingly learns in the sequel - is A Devil to Ride!
2. We couldn't fail to mention K. M. Peyton's sweepingly romantic modern classic, Flambards. Meet Sweetbriar, the strawberry roan who teaches Christina to ride. In the process, the horse brings her close in different ways to the three boys who become the men in her life.
3. The 1941 novel We Couldn't Leave Dinah by Mary Treadgold was already a classic by the time I discovered it. It's the story of a girl who won't leave her pony, Dinah, when the Nazis invade her fictional Channel island.
4. For contemporary readers is Lauren St John's The One Dollar Horse. City girl Casey Blue rescues a half-starved horse and makes her dream come true of riding at Badminton Horse Trials. Thrilling, moving and filled with the sort of equine detail that real riding girls love.
5. Riders by Jilly Cooper. Coming way up the age-group with bags of content, huge teen appeal and epicly plotted naughtiness, nothing beats Jilly's sense of fun or her love of animals and the countryside. Follow the restless romance and domestic disasters of Fen, Tory, Jake and the appallingly behaved Rupert Campbell Black as well as their devoted horses including the Bull, Sailor, Africa and the magnificent avenging Macaulay.
Rachel Hickman is the Deputy MD of Chicken House Publishing Ltd. Her debut novel for young teens about love, loss and horses comes out next spring. One Silver Summer will be published by Scholastic Inc.