Meet our final shortlistee!
Posted by Jazz on Monday June 6th, 2016
This week we're introducing our fifth and final Times/Chicken House Children's Fiction Competition shortlistee. Nicki Thornton's novel The Firefly Cage is a middle-grade murder mystery with a magical twist: kitchen boy Seth must solve a murder at a convention of magicians in order to prove himself innocent.
Nicki Thornton runs Mostly Books, an independent bookshop in Abingdon, Oxfordshire, which she founded with her husband ten years ago. She loves running a busy events programme, bringing authors both to the town and local schools and loves to support initiatives that boost a love of books. She is a passionate believer in the importance of reading. She was previously a journalist, mostly in the travel trade, and an editor in the business and environment sector. In her spare time she writes when she can and reads far, far too much.
How does it feel to be shortlisted?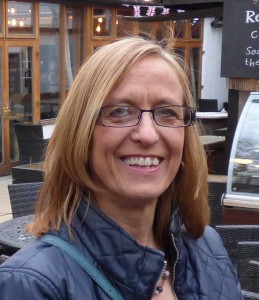 How does it feel? Wow. Really exciting, obviously. It feels like someone has given you a key to a door and when you get to the door it has a word written on it and that word is Possibility.
What inspired you to enter the competition?
It's the fact that Chicken House wants to read the whole manuscript that makes the competition really appealing. It sends a message that they appreciate bits of it will be unpolished and won't be right and it feels like a really kindly way to treat unpublished writers. It's no surprise that Chicken House has a reputation of being a publisher that really understands debut authors.
What's your top writing tip?
Write the book you need to write – if you write the book that really means something to you, you will find your unique idea and your unique voice.
Follow Nicki Thornton on Twitter: @nicki_thornton