Meet our second shortlistee!
Posted by Jazz on Monday May 16th, 2016
Each week, we're introducing you to one of the five fantastic authors shortlisted for this year's Times/Chicken House Children's Fiction Competition. This week it's the turn of Tracy Darnton, author of Milo and Operation Stepdad, which follows Milo's funny and heart-warming quest to find a partner for his single mum.
Tracy Darnton (47) lives in Bath with her husband and two sons. She graduated this year with Distinction from the Bath Spa MA Writing for Young People but originally studied law at Cambridge and worked as a solicitor and law lecturer. Having children was the perfect excuse to rekindle her love of children's books and get writing.
How does it feel to be shortlisted?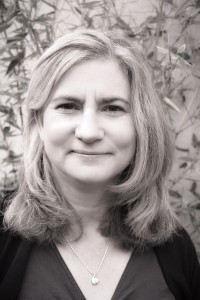 Exciting but still unreal. I think it won't sink in until I meet the other writers in person at the shortlist lunch.
What inspired you to enter the competition?
I hadn't entered before but I'd always followed it. A friend pushed me to do so this time and I liked having the deadline to knock the manuscript into shape. I'd hoped at best for some useful feedback so it's turned out much better than I ever expected.
What's your top writing tip?
Get some writing buddies who tell you the truth about your work and be prepared to listen to them. Oh, and you can never have enough notebooks.
Follow Tracy on Twitter: @tracydarnton