Meet our third shortlistee
Posted by Kesia on Tuesday June 12th, 2018
Just over a week until we announce this year's Times/Chicken House comp winner! Today we're introducing shortlistee number 3: Alison Padley-Woods, shortlisted for her story The Firestone of Avisriel.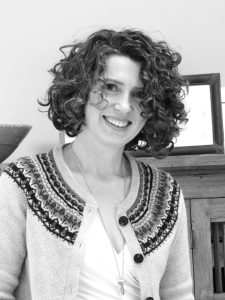 Alison Padley-Woods has been writing for as long as she can remember: for the school magazine, for the student newspaper at Leeds University and for Condé Nast's Brides magazine where she answered letters for the problem page before becoming the Home Editor. Travelling for a year, she freelanced for New Zealand House and Garden and Australian Vogue before taking a career break to bring up her three children. During that time, Alison completed a Creative Writing MA, specialising in children's fiction, at Manchester Metropolitan University. She has since run writing workshops in schools and had short stories published for projects with Manchester's Portico Library and Lancaster University's Stories to Connect, in conjunction with Barnardo's. Alison lives in Cheshire with her family. She is a member of the Society of Children's Book Writers and Illustrators.
Can you describe your journey as a writer so far?
I started writing picture books when my children were younger, but until I began my Creative Writing MA in Manchester, I'd never written a novel. Since then, I've joined the Society of Children's Book Writers and Illustrators and met some amazing people by attending talks, conferences and critique sessions. Gradually, I've crafted my first novel. It's quite a learning curve. I'm still learning. I don't think that ever stops.
What is your shortlisted story about? Can you give us the 'elevator' pitch?
It's a quest, a girl's search for her father that follows in the footsteps of Darwin. Really it's about love and loyalty versus greed and scientific ambition, a story which takes flight when Ellie and her brother Sam are swept away from Oxford into Avisriel, a world where legendary birds live and evolve. In this forgotten corner of the Galápagos Islands, armed with a glowing feather, a map, and the pages of Darwin's journal, they must discover how their destiny and the fate of their father is inextricably bound to the magical firestone.
What is your top writing tip for people thinking of entering the competition next year?
Entering the competition gives you a deadline which is a great way to finish your novel, but don't write in a bubble. Join a good critique group. Critiquing people's work helps you learn about your own, and getting feedback from other writers is invaluable. Be prepared to listen, to keep making changes and make your work as good as it can be.
You can find Alison on Twitter: @AlisonPadleyWoo