The 2017 #TimesChickenHouse winner is…
Posted by Kesia on Friday June 23rd, 2017
On the hottest day EVER, Wednesday 21 June, our fabulous panel of judges gathered at the blissfully air-conditioned Savile Club in London. Over a table laden with tea, coffee and biscuits, our judges (pictured below) set themselves the difficult task of talking through our wonderful shortlist and ultimately deciding on a winner.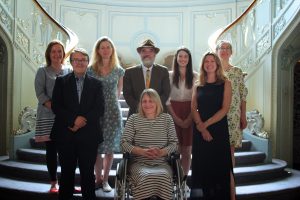 Our judges, from left to right: Alex Webb, Lewis Moreton, Rosamund de la Hey, Kate Saunders and Barry Cunningham, Florentyna Martin, Zoe King and Alex O'Connell
Everyone agreed on one thing for sure: it's been an exceptional year for the competition. With our biggest ever number of entries, an incredibly competitive longlist and a shortlist that showcases the best of storytelling talent, we knew the judges were in for a hard task. But of course, there can only be one winner.
The 2017 shortlistees, from left to right: Virginia Clay, Jasbinder Bilan, Danny Rurlander, Katherine Bassford, Ruth Griffiths
After the decision, the shortlisted authors were invited to a lunch at which the winner was announced. We loved meeting this talented and friendly bunch – once again, congratulations to all our shortlisted authors. But the winner is …
SONG OF THE MOUNTAIN by Jasbinder Bilan
The judges loved this middle-grade adventure with a spiritual twist, set in contemporary India. The story follows Asha, a determined, strong and special girl who has visions that predict the future. At the start of the story, Asha's second sight leads her to leave her family home and embark on a perilous quest across the mountains to discover the fate of her missing father. Judges particularly enjoyed the magical realist elements and the role of faith and ambiguity in the novel.
Publisher Barry Cunningham says: 'It's so inspiring to publish a novel like Song of the Mountain. Jasbinder has written a story of magic and adventure, set in India and told through the eyes and actions of a super brave young heroine. We feel certain young readers will feel inspired, and see themselves reflected in Asha's journey. Ultimately, her quest has a real treasure at its heart – love!'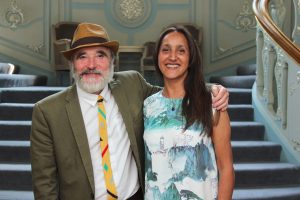 Barry Cunningham and our winner, Jasbinder Bilan!
Congratulations Jas! We're so excited to embark on the journey to publication.
Next year, YOU could win a publishing contract with a £10,000 advance! Keep an eye on our submissions page for details...