Introducing our Shortlistees!
Posted by Olivia Jeggo on Friday October 8th, 2021
The moment is finally here! Curious about who made it onto our Times/Chicken House and IET shortlists? We've got your back. Choosing our top favourite manuscripts was no easy task this time around - the talent on display in our submissions gets greater and greater as the years go on. With that being said, here are the eight shortlisted authors who made it this year, a little bit about them and a teaser about the books themselves. Congratulations, all!
Our IET competition shortlistees are ...
The Remarkables – Alison Stegert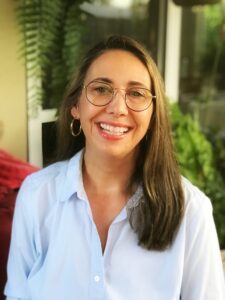 At age 12, Alison read The Secret Garden, a book she credits with unleashing her desire to write, her urge to travel, and her fascination with the UK—all unusual interests for a country girl from small-town America. At 18, she began travelling and acquiring languages. In China, she fell in love with an Aussie whom she married (best souvenir ever)! After raising three remarkable daughters and retiring from school counselling, Alison now focuses on her writing. She's the state director of the Queensland branch of SCBWI ANZ.
The Remarkables is YA historical fiction with a STEM twist:
#19thCenturyGirlGeniusProblems: When your new job as gadget inventress to Queen Victoria's League of Lady Spies clashes with your dream opportunity at the 1889 Paris World Fair.
The Cipher Engines – Henry Coles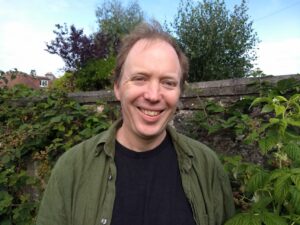 Henry grew up in a small village in Yorkshire, then studied in Nottingham before moving to Edinburgh, where he lives with his wife and daughters. After dropping out of both a chemistry degree and a PhD in powder metallurgy, he became a computer programmer. He started writing fiction at 12:48 on the 4th of March 2017 and hasn't stopped yet.
The Cipher Engines is a story of secrets, cryptography and calculating engines, set in Victorian England. It follows thirteen-year-old Ada Halting as she searches for her missing mother, aided by a mysterious talking crow who insists there is no such thing as magic.
Jeremy Gill is Not the Chosen One – Jackie Jones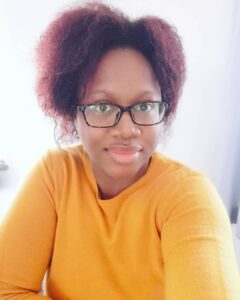 Jackie's a Barbadian-British writer using her cultural background, experiences, and imagination, to develop stories and screenplays. Based in Belgium, the former journalist enjoys researching advances in science and tech, history, and lore, as inspiration for her work. While much of her writing falls into the speculative fiction genres, she has creative nonfiction pieces in two anthologies, has written for World Footprints, Fame Focus, and Destination Tips to name a few, and has created courses on copywriting, budget business, and remote working. Nowadays Jackie's focused on creative content development in multiple mediums, and often indulges her soft spot for ducks with feeding days by the lake.
In Jackie's shortlisted novel Jeremy Gill Is Not the Chosen One, twelve-year-old mecha pilot trainee Jeremy rebels against being the people's chosen one, gets in way over his head and when all he cares about is in jeopardy, must fight to make things right.
And our Times/Chicken House competition shortlistees are ...
The Vengeful Son – Amie Jordan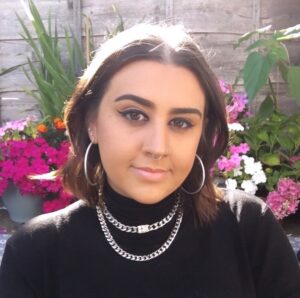 Amie is a freelance artist who lives in Salford, Greater Manchester with her son, dog, and grumpy cat. She designs children's knitwear and oversees art workshops in primary schools through the day, then writes away whilst drinking endless cups of tea into the night.
Studying film at university, all forms of story telling have been her passion since childhood – tens of boxes under her bed hide long-winded manuscripts: evidence of her child and teenage attempts.
Amie recently discovered the Golden Egg Academy and with the optimism and support she found there mustered the courage to enter her first competition. She is beyond thrilled to have now reached the short list.
Amie's shortlisted novel, The Vengeful Son, is a classic whodunit interspersed into a contemporary fantasy setting. Sage is a nineteen-year-old werewolf and a dreamer, but when her chance to join the Arcānum and fight crime comes at last, the race to end the case before it ends her is on.
The Flood Child – Emily Randall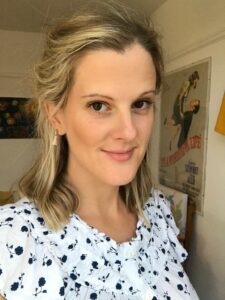 Emily trained as an actor, and spent years touring in classic novel adaptations with a merry band of players and the set in a horse box. She's also been an Historical Interpreter (one of those in Georgian dress at Hampton Court) and worked for the National Trust, where she created trails and exhibitions for all ages. In fact, it was producing an interactive murder mystery that ignited a love for writing twisty tales for older children. She now writes alongside raising two tiny people, one of whom lent her middle name to the main character.
The Flood Child tells the story of Autumn, a thirteen-year-old who can see the dead. When her father drowns and he's the one ghost that doesn't appear, she must solve the mystery of his death before his past comes hurtling into her present.
Fatima and the Invisible Necklace – Laila Rifaat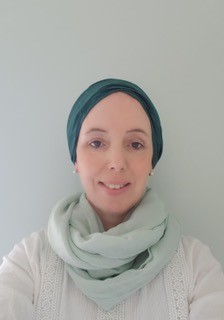 Originally from Sweden, Laila moved to Cairo, Egypt, in her twenties to explore her father's native country. She was supposed to stay for four years to finish her university studies but fell in love with the country (and with her husband) and ended up staying. Although she's lived in Cairo for over twenty years now, she still thinks of the city as an enormous, historical trifle, with layer upon layer of rich, delicious story. As such, it remains a main source of inspiration for her stories. Laila has an M.A in English and Comparative literature and has worked as an ESL and IGCSE teacher. Nowadays she's a stay-at-home mom to her four kids and writes whenever they give her a moment's peace.
Fatima and the Invisible Necklace is the story about a girl who inherits her late mother's necklace, only to discover that it carries a magic wish that will strangle her unless she carries it out! Fatima's quest to be free of the curse takes her on quite an adventure: She goes to a time-travel hub in a parallel universe where she meets characters from all over Egyptian history, including some very naughty flying carpets and a pair of sphinxes with a penchant for squabbling and knitwear.
The Portland Place Mystery – Nicola Whyte
Nicola has been writing since she was very young and studied Drama at university, before going on to work as a bookseller. In 2008, she became a web developer and now runs a small digital agency. She writes short stories and novels for both children and adults, and completed the GEA Foundations course last year, working with editor Abigail Kohlhoff on a YA novel. Nicola is also a member of SCWBI, The Golden Egg Academy, and volunteers with the Write Magic writing collective on Facebook. Nicola currently lives in Wiltshire with her partner, daughter and two demanding tabby cats.
The Portland Place Mystery is a contemporary mystery story about a group of twelve-year-olds about to make the transition from middle to secondary school, keen to cement their friendship and make their summer count. When they meet ARLO, Professor Ken's top secret robotic research come to life, and the only witness to a crime they decide to investigate, can the friends piece together the clues and track down the missing scientist before it's too late?
Obsidian Heart – Philippa Peall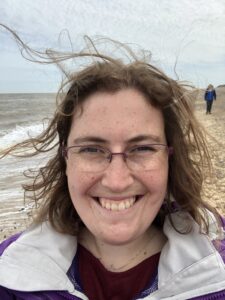 Philippa is a writer, singer, and theatre-lover who, despite her best efforts to escape, keeps finding herself living in Essex. Her writing is influenced by the training she received during her BA in Journalism – you don't quickly forget a coarse Yorkshireman yelling at you that stories should be brief and moist! By day she works in marketing for an outdoor opera company. By night she reads and writes children's books, and occasionally procrastinates by watching people play video games on the internet. As a queer woman who didn't truly understand her identity until her early twenties, Philippa's ambition as a writer is to help populate young people's bookshelves with a rainbow of queer stories.
In Philippa's shortlisted novel, Obsidian Heart, asexual teen Lizzie accidentally reawakens her world's dormant magic as she goes on a quest to find her own version of 'true love', and free herself from the curse that's stopped her ever telling the truth.
Our winners will be announced next week, so keep your eyes peeled and watch this space ...