Meet our first shortlistee
Posted by Kesia on Wednesday June 6th, 2018
It's only TWO WEEKS until our panel of judges decides on the winner of this year's Times/Chicken House Children's Fiction Competition, and we're super excited to find out who will win our publishing contract!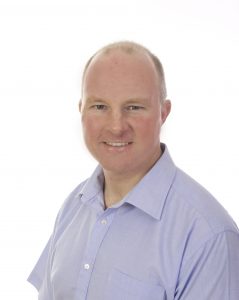 In the lead-up to the winner announcement, we'll be sharing all the goss about our finalists, our panel and the event itself. First up, we'd like to introduce the final five, and we'll be posting a profile on each shortlistee over the next week. These talented writers beat off stiff competition to reach the shortlist, so we've asked them to tell them a little bit about themselves …
Justin Strain (The Secret of the Scarlet Ribbon) grew up in Portsmouth, the setting for the Kitty Hawkins adventures, and later served there as a Royal Naval Officer and as a volunteer crew member with the Portsmouth Lifeboat. Justin's love of reading and stories came from his mother, Margaret, who was a schools' librarian. Growing up in a house full of books, Justin was entranced from an early age by the mysteries they contained. Justin now works as a physiotherapist and lives in Portsmouth, with his wife and two children. When he is not working or writing, he enjoys messing around on boats and playing the violin.
Can you describe your journey as a writer so far?
I've been writing all my life. For me it's a form of relaxation, like reading a book, and I love discovering a new story as it unwinds. I often write on the train to work, or early in the morning at a weekend. For years I didn't have the confidence to show anyone the short scraps of stories I had written, but as I practised, my confidence grew. I started to share my ideas with friends, and joined a writers' group. I learnt loads from their feedback and eventually felt ready to tackle a novel. Then I had an exciting idea about a mysterious adventure set in nineteenth-century Portsmouth…
What is your shortlisted story about – can you give us the 'elevator pitch'?
The year is 1832. Portsmouth is a hotbed of crime and villainy. Fourteen-year-olds Kitty Hawkins and Charlie Miller are led by a mysterious stranger into a murky web of murder and intrigue, surrounding a sinister secret society. As the mystery unfolds, they realise the danger that they are in, and before long they are fighting for their lives. This book in 3 words: Historical. Suspense. Adventure.
What is your top writing tip for people thinking of entering the competition next year?
Write about something that excites you, and immerse yourself in the story's world. Imagine yourself as every character – both the heroic and the villainous – in order to make them come alive. When you hit a blockage or it feels like it is unravelling, step out of the story's world for a while and allow it to tick away quietly in the background of your mind. You may find the solution presents itself when you least expect it.
You can find Justin on Twitter: @strain_justin