TOP 5 FRIDAY: Kid Detectives
Posted by Rachel L on Friday May 29th, 2015
TOP 5 kid detectives
Detectives have to be more than just plain nosy – only the truly tough, steely and determined will get to the bottom of the crime. As Humphrey Bogart says in 'The Big Sleep' (when asked why he keeps on investigating):  'Too many people told me to stop.'  (more…)
NEW BOOKS!
Posted by Jazz on Monday April 13th, 2015
April has been a really exciting month for us at Chicken House HQ - not only have we announced the winner of the 2015 Times/Chicken House Children's Fiction Competition, but we've also got four brand new books publishing!
SALT & STONE by Victoria Scott (12+)
One hundred and twenty-two began. Only sixty-four remain.
Tella's made it through the first terrains of the Brimstone Bleed - but the contest isn't over yet. If she wants to save her brother, she must face oceans and icy mountains, all for the chance of winning the Cure.
And even if Tella survives these deadly places, the greatest threat will still be her fellow Contenders - even the ones she trusts the most ...
The explosive sequel to FIRE & FLOOD is finally here! A must-read for all YA fans, SALT & STONE is an action-packed journey which will leave you on the edge of your seat all the way to the end. You'll read it in one sitting!
Follow Victoria Scott on Twitter: @victoriascottya
IF YOU WERE ME by Sam Hepburn (12+)
Not long after Aliya's family escapes Afghanistan for Britain, her brother is accused of a bomb attack. Aliya is sure of his innocence, but when plumber's son Dan finds a gun in their bathroom, what's she to think?
Dan has his own reasons for staying silent: he's worried the gun might have something to do with his dad. Thrown together by chance, the two of them set out to uncover a tangled and twisted truth.
From award-winning author Sam Hepburn comes an exciting new teen crime mystery following two teenagers who face the very real issues of contemporary London. You can also get your hands on a beautiful new edition of Sam's first books, CHASING THE DARK, this month too!
Follow Sam Hepburn on Twitter: @sam_osman_books
THE BIG WISH by Brandon Robshaw (9+)
Eleven-year-old Sam has a problem. Well, quite a few problems. So when he sees a shooting star, he naturally wishes on it - for a million wishes. Of course, he doesn't expect the wish to come true, but somehow it does.
Sam has fun experimenting with wishes - he can change anything he wants. But then he discovers that changing stuff has consequences he hadn't anticipated. And what's the point of doing anything, if you can just wish for it and make it happen?
A story that will make you laugh out loud as well as think about the big themes behind it! THE BIG WISH combines comic fantasy and exciting ideas to create a perfect read - what in the world would you wish for?
Follow Brandon Robshaw on Twitter: @brandonrobshaw
THE SOUND OF WHALES by Kerr Thomson (10+)
Three children are spending their summer on a wild Scottish island. Fraser is desperate for adventure and Hayley is fed up she's even there, while Dunny spends his days staring out to sea. He hasn't said a word in years.
But everything changes with the discovery of two bodies on the beach: a whale and a man. Fraser and Hayley see a mystery-adventure to be solved, but Dunny is inconsolable. And in the end, it will take someone who listens to the sea to put it right.
Winner of the 2014 Times/Chicken House Children's Fiction Competition, THE SOUND OF WHALES is a classic story that explores the importance of our environment, our relationship with animals and how the truth isn't always straightforward. A magical adventure set on the Scottish coast!
Follow Kerr Thomson on Twitter: @kerr_thomson
Follow Chicken House on Twitter: @chickenhsebooks
The Times/Chicken House Children's Fiction Competition: One Year On
Posted by Jazz on Thursday April 2nd, 2015
Kerr Thomson, the 2014 Times/Chicken House Children's Fiction Competition winner, shares his experience of being published ... (more…)
The Times/Chicken House Children's Fiction Competition: Judging Panel and Lunch
Posted by Kesia on Tuesday March 31st, 2015
The drawing room at the Savile Club: gilded and wood-panelled, faded-grand, the carpet soft as whispers. It's time for the judging panel. (more…)
CHILDREN'S FICTION COMPETITION WINNER ANNOUNCED ... AND 2016 COMPETITION OPENS!
Posted by Kesia on Friday March 27th, 2015
We are delighted to announce the winner of the 2015 Times/ Chicken House Children's Fiction Competition:
THE SECRET COOKING CLUB FOR GIRLS by Laurel Remington
Laurel's warm and witty tale of baking, friendship and finding your calling impressed all of our judges. Scarlett's mum - a social media guru - uses her daughter's life as embarrassing blog-fodder. Withdrawn and lacking in confidence, Scarlett stumbles upon the magic of cooking. But she can't possibly let her mum find out...
Many congratulations to Laurel and to all our shortlisted authors for reaching the competition's most outstanding shortlist yet.
Last year's winner, the fabulously atmospheric THE SOUND OF WHALES by Kerr Thomson, is publishing on Thursday 2nd April - watch this space!
THIS YEAR'S COMPETITION IS NOW OPEN!
Enter the Times/Chicken House Children's Fiction Competition 2016 ...
... and win a publishing contract worth £10,000!
We are looking for original ideas, a fresh voice and a story children will love. If you have written a novel for children between the ages of 7 and 18, visit our submissions page for details on how to submit your manuscript.
The competition has already launched the careers of many talented children's authors - you could be next!
Competition closes Friday 30th October 2015
Click here for full terms and conditions and for details of the prize.
THE TIMES/CHICKEN HOUSE CHILDREN'S FICTION COMPETITION - SHORTLIST ANNOUNCED!
Posted by Jazz on Friday February 13th, 2015
Drumroll please! Over the last few weeks, we've had the very difficult task of whittling our fantastic longlist of 18 down to a shortlist of just 5. With such a stellar longlist, this was no mean feat - all the longlisted submissions were absolutely brilliant stories, full of all the originality, excellent writing and riveting plots that we're on the lookout for from the hundreds of submissions we receive. Such was the quality of this year's longlist, that we couldn't decide on just 5 - so without further ado, here's the shortlist of 6!
Adam's Amazing Apothecary by Wai Lan Mo
Dogs of Legacy by M.P. Sturrock
Keeper of the Crown by Mary Hopewell
King of the Mountains by Steve Lee
The Gallows Dance by Anna Day
The Secret Cooking Club for Girls by Laurel Remington
We've got an absolutely fantastic mix of genres and age ranges on the shortlist - respectively, a magical, hilarious tale of a junior Dr. Dolittle and his journey to overcome fear; a heart-wrenching canine adventure with a unique narrative voice; a high-concept fantasy set in a world ruled by reincarnation; an electrifying cycling story packed with adrenaline; a gripping reimagining of society's obsession with perfection, based around genetic modification; and a delicious cake-fuelled drama bursting with flavour.
Congratulations to all of our shortlisted authors!
Chicken House acquires MOTH AND THE NIGHTINGALE
Posted by Jazz on Wednesday February 11th, 2015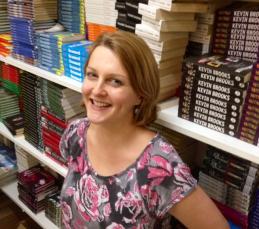 We're very excited to announce that we've recently acquired the debut novel from Lucinda Martin (right), MOTH AND THE NIGHTINGALE.
A poetic middle-grade novel, MOTH AND THE NIGHTINGALE tells the story of Henry, a young girl from a grieving family, whose life changes when she meets a witch-like old woman who lives in the woods. Her name is Moth. As Britain finds itself moving towards war, Henry turns to Moth for help - but soon realises she may be hiding some dark secrets of her own.
Chicken House's MD Barry Cunningham says, 'We are proud to publish Lucinda Martin's subtle and surprisingly modern interpretation of the lonely, bookish child, and some almost magical events in an enchanting house and wood, set between the wars.'
Our lovely Editorial Director, Rachel Leyshon, acquired MOTH AND THE NIGHTINGALE from Luigi Bonomi Associates in a world rights deal. It will be hitting the shelves in 2016 - keep your eyes peeled!
Follow Lucinda Martin on Twitter: @lucymartin
Follow Chicken House on Twitter: @chickenhsebooks
Follow Chicken House on Instagram: @chickenhousebooks
WE HAVE A LONGLIST!
Posted by Jazz on Tuesday January 20th, 2015
We're very excited to announce our longlist for the 2015 Times/Chicken House Children's Fiction Competition! We had a huge amount of entries which were all read by our team of experienced readers, who with Barry Cunningham and the Chicken House team chose the very best submissions for our longlist.
So, without further ado - here they are!
ADAM'S AMAZING APOTHECARY by Wai Lan Mo
ALL MY SINS REMEMBERED by Anna Fransizka
DOGS OF LEGACY by M.P. Sturrock
DUNCAN VS. THE GOOGLEYS by Kate Milner
HIDDEN IN THE TRUNK OF STARS by Susie Dinneen
HOLLOW BONES by Anneka Freeman
KEEPER OF THE CROWN by Mary Hopewell
KING OF THE MOUNTAINS by Steve Lee
MOMO AND THE STAR PLAYER by Rebecca Purton
ONE MORE WAVE by L.L. Stewart
REIVERS by Claire Watts
RISE & SHINE by Emma Lee-Potter
SANITATUM by Cassie Powney
SAVING SAXON by Martha Lane
THE DOLL'S HOUSE by Eve Lyte
THE GALLOWS DANCE by Anna Day
THE SECRET COOKING CLUB FOR GIRLS by Laurel Remington
THE START OF HOPE by Debbie Nuttall
Congratulations to all on the longlist, and thank you to all the fantastic authors who entered this year's competition. As always, the standard was incredibly high!
Keep an eye on our Twitter page for info on the shortlist, announcing early February.
Lobsters Shortlisted For The YA Book Prize
Posted by Jazz on Monday December 8th, 2014
2014 has been a fantastic year for YA - and since being published in June, LOBSTERS has made a splash with readers everywhere. And it seems we're not the only ones that think so, as it's been shortlisted for the very first YA Book Prize!
Tom Ellen and Lucy Ivison's socially awkward love story joins a stellar group of nine other shortlisted authors, including Half Bad author Sally Green and this year's Queen of Teen James Dawson. Click here to see the full shortlist!
The YA Book Prize is a brand new award in association with The Bookseller which celebrates the very best Young Adult books in the UK and Ireland. We'll be keeping our fingers very tightly crossed in anticipation of the winner announcement in 2015 - you can get involved too by tweeting #TeamLobsters!
Follow the YA Book Prize on Twitter: @yabookprize
Follow Chicken House on Twitter: @chickenhsebooks
Follow Chicken House on Instagram: @chickenhousebooks
THE BIG IDEA COMPETITION - WINNERS ANNOUNCED!
Posted by Jazz on Thursday November 27th, 2014
We're very pleased to announce the results of THE BIG IDEA competition! Our judges received a huge amount of entries, and after a long afternoon of coffee and cake, they crowned Neal Jackson the lead winner with his story idea THE FIRST AERONAUTS. Neal will received £1000 and the promise that his idea will become the inspiration for a story which will be published worldwide and written by a successful children's author. Congratulations Neal!
The five runners-up are as follows:
Victoria Anderson with 21ST CENTURY PANDA
K.D. Faerydae with TROPICAL
Louise Greig with THE BROWN DOG AFFAIR
Angela McCann with THE FANDOM
Kathleen Warminger with MISS MOG
Each runner-up will also win £1000, and the chance of their idea being developed into a book, TV, film or more.
Keep an eye on the BIG IDEA website to find out more about the development of a story idea - and info about the next competition will be shared in due course!
You can find out more information about THE BIG IDEA by clicking here.
Follow THE BIG IDEA on Twitter: @thebigideacomp
Follow Chicken House on Twitter: @chickenhsebooks
Follow Chicken House on Instagram: @chickenhousebooks
IT'S FINALLY HERE!
Posted by Jazz on Tuesday October 14th, 2014
After months and months of waiting, the MAZE RUNNER movie finally hit the big screen on Friday! Directed by Wes Ball, the film adaptation features a whole bunch of talented stars - including Will Poulter, We're the Millers actor and winner of the 2014 BAFTA Rising Star Award, Skins actress Kaya Scodelario, Game of Thrones and Love Actually actor Thomas Brodie-Sangster, and lead actor Dylan O'Brien, best known for Teen Wolf.
And the reviews have started pouring in! Check out a couple of our faves ...
'While we're always a bit dubious when our fave books are made into movies, The Maze Runner nails it and sticks a cherry on top for good measure. Dylan's amazing in the lead role ... and we were literally on the edge of our seat the entire time.' SUGARSCAPE
'... as someone who hasn't read any of the books but was gripped from the get-go, it feels like another hit.' THE TELEGRAPH
If you loved the film and haven't yet read the books - what are you waiting for? You can order a copy of our limited edition slipcased hardback here - and be sure to tweet us at @chickenhsebooks to let us know what you think!
Follow Chicken House on Twitter: @chickenhsebooks
Keep up-to-date with all the latest MAZE RUNNER news: @mazerunnerbooks
Chicken House Announces The Publication Of A New Book In The No.1 New York Times Bestselling Maze Runner Series By James Dashner
Posted by Jazz on Thursday October 9th, 2014
Prequel novel to The Maze Runner to be published in 2016
The Maze Runner movie reaches #1 at the box office on opening weekend in USA
Twentieth Century Fox movie opens in the UK 10th October
Book two, The Scorch Trials, to release as major motion picture Autumn 2015
Somerset, UK. 7th October 2014 - Chicken House Publishing Ltd. will publish the fifth novel in James Dashner's #1 New York Times bestselling Maze Runner series, which has sold 7 million copies worldwide, as announced today by publisher Barry Cunningham.
THE FEVER CODE reveals the time directly before The Maze Runner and will tell the story of how Thomas, Teresa and the Gladers found themselves trapped in the Maze and how it was created. Dashner's The Maze Runnner movie will be released in cinemas in the UK on 10th October. It opened last month in the USA at #1 at the box office. The deal, which includes UK, Commonwealth and Open Market rights, was brokered by Barry Cunningham, Publisher, Chicken House and Caspian Dennis at Abner Stein on behalf of Lauren Abramo at Dystel & Goderich Literary Management.
The second movie based on the series, entitled Maze Runner: The Scorch Trials, is scheduled to release on 18th September 2015.
'From the very beginning, I've always wanted to write a prequel about Thomas, Teresa, Newt, Minho, Alby and all the Gladers that leads up to the very moment Thomas enters the Box. There are so many things hinted at that will be fun to reveal in depth. For years, fans have made it abundantly and enthusiastically clear that they want the same thing, so now seems like the perfect time to give readers the story of how the Maze began.' JAMES DASHNER
With 7 million copies of the series sold (whose titles include The Maze Runner, The Scorch Trials, The Death Cure, and The Kill Order), a major motion picture from Twentieth Century Fox of The Maze Runner - which opened at #1 in 62 countries to date, and will have rung up over $200 million in ticket sales after opening in the UK and Italy this weekend- and a second major motion picture slated for The Scorch Trials, the series continues to gain fans worldwide.
'We are delighted to be James' publisher and to see the rise, and rise, of his pulse-pounding Maze Runner series, now about to reach an even wider audience this week with the UK movie opening. More than any other author we have had the good fortune to work with, James understands and believes in his audience. We are thrilled to be part of sharing THE FEVER CODE, the new book he felt compelled to write.' BARRY CUNNINGHAM
James Dashner is the award-winning author of the #1 New York Times bestselling Maze Runner series. Born and raised in Georgia, Dashner now lives in Utah with his family. You can follow James on Twitter @jamesdashner or via his Facebook page and website.
Chicken House Publishing Ltd was founded in 2000 by Barry Cunningham, Publisher, with Rachel Hickman, Deputy MD. Over the last decade, Chicken House has demonstrated that a small, creative publishing team based in England can make an impact on an international scale. Owned by Scholastic Inc., the world's largest children's publisher since 2005, Chicken House books are sold in the UK, Australia and New Zealand, and via its export companies around the world. In 2010, Chicken House Deutschland was set up with Carlsen, who publish the Maze Runner series in translation. Follow @mazerunnerbooks