New Reads: February 2023
Posted by Olivia Jeggo on Thursday February 2nd, 2023
With February comes one epic adventure ...
And boy, do you not want to miss this one! The rising queen of middle-grade fiction herself re-enters the ring with a story set in Roman London full of deceit, storytelling and the importance of justice. Read on to find out more about Vita's glorious story ...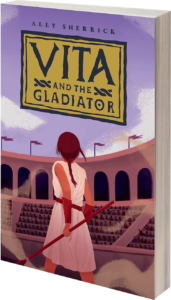 When high-born Vita's father is murdered in Roman Londinium, Vita is forced to disguise herself as a slave at the gladiator's arena.
Here she forges an unlikely bond with Brea, a native Briton gladiatrix. Together, they resolve to bring the killer to justice before Vita is discovered …
A rip-roaring adventure set in Roman London from the rising queen of middle-grade historical fiction, Ally Sherrick – winner of the Historical Association Young Quills Award.
Read chapter 1 of VITA AND THE GLADIATOR