Halloween Treats
Posted by Kesia on Tuesday October 31st, 2017
BOO!
It's Halloween – hurray! – and to celebrate we've selected some perfectly spooky Chicken House books for your reading pleasure, including our two brilliant November publications, Witchborn and The Rise of Wolves, out this Thursday. Enjoy under the covers with a torch in the dead of night for that authentic Halloweeny feel…
Out on Thursday, debut author Nicholas Bowling's brand new and totally gorgeous historical fantasy (JUST LOOK AT THAT COVER) is rich with dark magic and truly malevolent villains – not to mention a twist that will leave you reeling. Guaranteed to send shivers down your spine…
It's 1577. When her mother is burned at the stake for witchcraft, Alyce flees to London. But it isn't just witchfinders she has to worry about. Powerful political forces are also on her trail, dragging her into the feud between Queen Elizabeth I and Mary, Queen of Scots. As Alyce struggles to understand her own powers, she is drawn into a web of secrets, lies and dark magic that will change the fate of England ...
Also publishing this week, Kerr Thomson's atmospheric tale of wolves and wilderness starts with a chilling howl on an island where no wolves have lived for centuries… Hey, did you hear that noise…?
Innis Munro is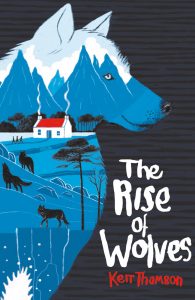 walking home across the bleak wilderness of Nin Island when he hears the chilling howl of a wolf. But there are no wolves on the island – not since they were hunted to extinction, centuries ago. He decides to investigate his island home and accepts an ancient challenge: he who jumps the Bonnie Laddie's Leap wins a fortune. As the wolves rise from the darkness of history, and long-buried secrets resurface, Innis's adventure truly begins …
We've dug through our backlist to find a couple of our most Halloweeny titles from yesteryear…
Veronica Cossanteli's darkly funny mystery feels like Roald Dahl crossed with a supremely gothic horror – and it's perfect for younger MG readers. You'll never look at cabbages in the same way again…
Orphaned Dan's new home is a crumbling castle. Here, horrible Aunt Eg reigns supreme, tending her mysterious graveyard garden. But why are Aunt Eg and her curious servants missing a finger – and what are the hungry 'Cabbages' in the greenhouse? As Dan struggles to solve the mystery, he encounters a chilling question: what's the price of everlasting life?
OK, we don't all want to be totally terrified on Halloween – but witches are still topical, right? The Apprentice Witch has plenty of thrills, but it won't scare your socks off. Best read curled up with a hot chocolate in front of the fire…
Arianwyn fluffs her witch's assessment. Awarded the dull bronze disc of an apprentice – to the glee of her arch-rival, Gimma – she's sent to protect the remote, dreary town of Lull. But her new life is far from boring. Turns out Gimma is the pompous mayor's favourite niece – and worse, she opens a magical rift in the nearby forest. As Arianwyn struggles with her spells, it's soon clear there's much more than her pride at stake …
Happy Halloween, everyone!
Save
Save
Save