New Reads: November 2021
Posted by Olivia Jeggo on Thursday November 4th, 2021
Happy November, everyone!
November is officially upon us - but just because the month of ghosts and ghouls is over, that doesn't mean you can't carry on reading all the spooky stuff. The latest book by Lucy Strange is the perfect winter read, full of family, mystery and danger ...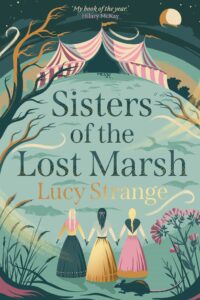 The spellbinding new novel from the award-winning author of The Ghost of Gosswater and the Waterstones Prize-shortlisted Our Castle by the Sea – a masterful blend of dreamy magical realism and thrilling gothic mystery, perfect for fans of Emma Carroll and Frances Hardinge.
Life is hard for Willa, Grace and Freya, and their three younger sisters. Six motherless girls working a farm, living in fear of their cruel father and the superstition that obsesses him – The Curse of Six Daughters. With the arrival of the mysterious Full Moon Fayre, there's a chance for the eldest girls to
steal a moment's fun, but the day the fayre moves on, Grace vanishes.
Willa goes after her, following a trail that leads into the dangerous Lost Marsh, where it is said a will-o'-the-wisp lures lost souls into the dark waters of the mire. If Willa is to survive and reunite her family, she will need to unravel the secrets her father has kept hidden, and face her own deepest fears …
Read chapter 1 of Sisters of the Lost Marsh