What do the writers read at Christmas?
Posted by Jazz on Wednesday December 11th, 2019
We all have our Christmas traditions, whether it's baking mince pies on Christmas Eve, or seeing how many times we can watch Hugh Grant dance through 10 Downing Street in Love Actually. It's a season of familiarity, and for many of us, that also extends beyond food and TV to books!
With the big day itself just around the corner, we asked a handful of lovely Chicken House authors (and the unintimidatable Barry Cunningham) to take share with us their favourite festive read. Enjoy!
Jasbinder Bilan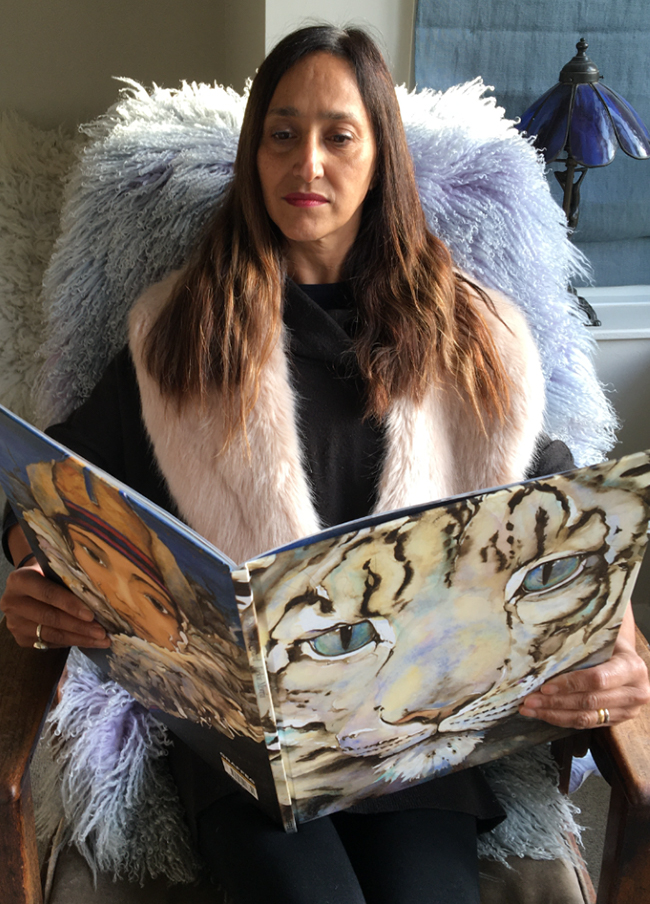 One of my favourite Christmas treasures is The Snow Leopard, a stunning hardback story written and illustrated by the amazing Jackie Morris. The snowy setting of the high Himalaya is the backdrop to a tale full of mysticism and magic, perfect for reading aloud around the fire on a frosty Christmas Eve. 
At a time when we remember with love, absent family members, its message of reincarnation, animal spirits and eternity is one I hold close to my heart. It's about a forgotten girl who finds her spirit guardian, a snow leopard, and together they explore the wild landscape of the Himalayas, singing songs and spells to keep it safe. 
Jasbinder Bilan is the author of Asha and the Spirit Bird.
James Nicol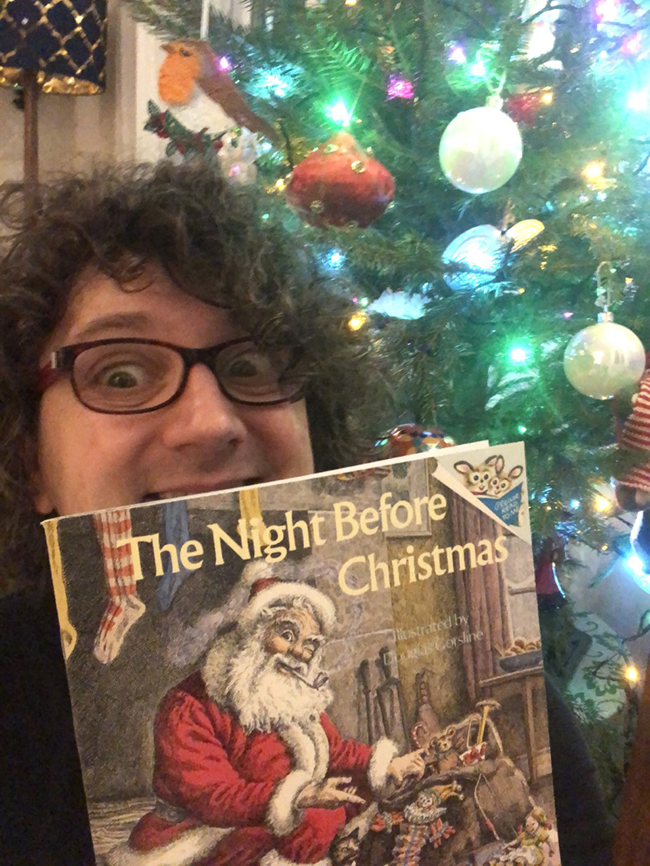 I don't recall many Christmassy books from my childhood as I think there was nothing that could come as close to Clement C Moore's The Night Before Christmas for sheer joy! It's mostly to do with Douglas Gorsline's illustrations that are wonderfully detailed from the cross section of the sleeping house to glimpse of the goodies in Santa's bag! It's warm and wondrous completely captures Christmas between its pages.
James Nicol is the author of The Apprentice Witch series. 
Lucy Strange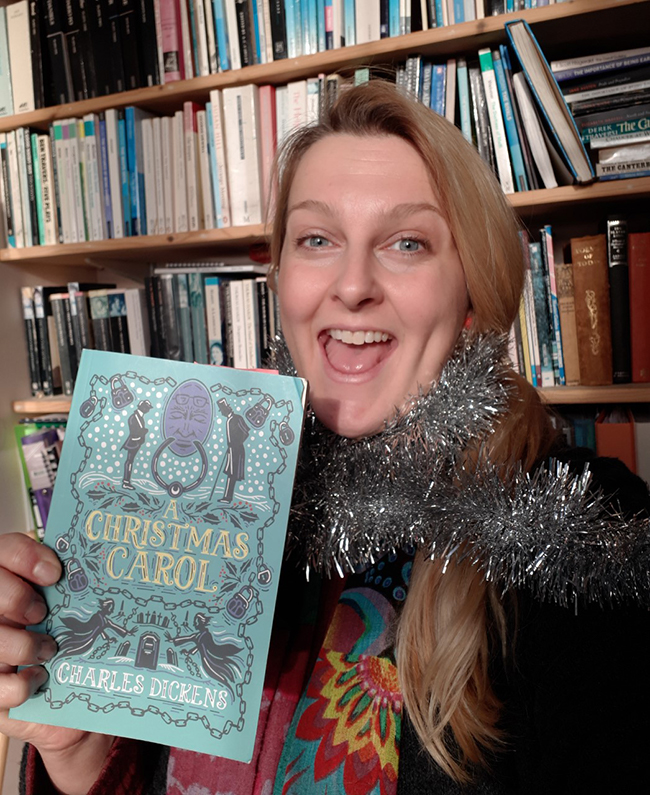 On these dark December evenings, there are certain things that can bring us enormous comfort – a mug of hot chocolate and a mince pie, a crackling log fire . . .  and of course, a suitably festive book to snuggle up with. 
Every Christmas, in one way or another, I find myself coming back to my old friends Ebenezer Scrooge, Bob Cratchit and family, and the panoply of enlightening ghosts. Charles Dickens' A Christmas Carol will always be at the heart of Christmas for me, with its characteristic warmth, humour, richness of language and its festive message of kindness and community. 
In this particular deep mid-winter, lost as we are in a blizzard of political and environmental worries and with Brexit concerns drifting deep and crisp and even, Dickens has much wisdom to offer us. A Christmas Carol is ultimately a story about hope and redemption: Dickens assures us that even in a world filled with injustice and uncertainty, the choices of one individual can have an extraordinary impact. So, Merry Christmas to you, dear reader, and, as Tiny Tim observed, God bless Us, Every One!
Lucy Strange is the author of Our Castle by the Sea and The Secret of Nightingale Wood.
Nicki Thornton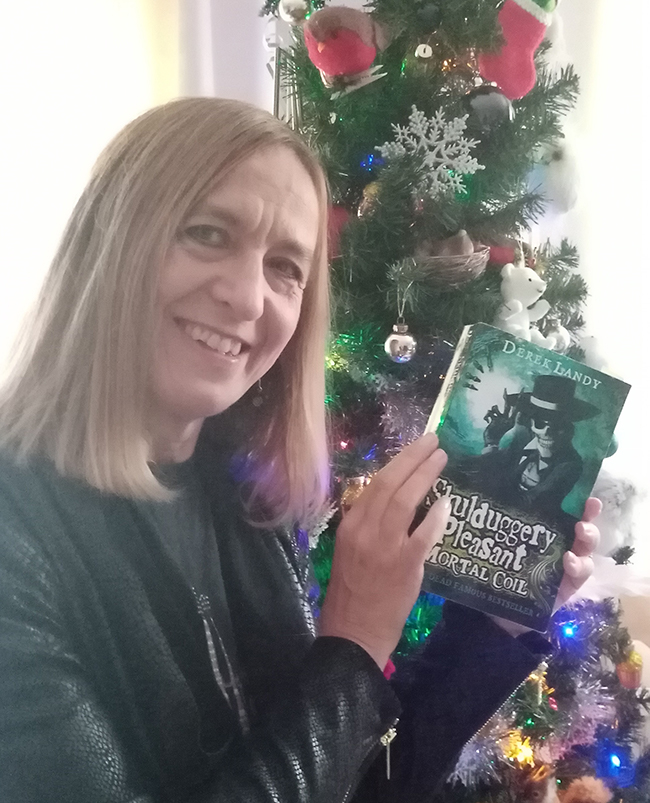 My favourite Christmas featured in a book is Mortal Coil by Derek Landy. You might think Christmas Day is going to be tough; after all, isn't it pure torture visiting Aunt Beryl's over-heated home, and having to be nice to irritating cousins Crystal and Carol?
But then Valkyrie Cain gets a call she's been dreading. She is summoned to ride with the headless Dullahan, to travel into the world of the dead. Then the Christmas torture really begins.
While most of the world is obliviously eating too many mince pies and moaning about their dreadful presents, the magical folk must keep one step ahead of a relentless hit man if they are to save the world from a truly horrifying plague of body-snatching remnants.
Valkyrie has to put herself in the creepy, untrustworthy hands of Dr Nye, the only creature able to perform the terrible magical surgery that she needs to save the world from death and destruction. If only she can get out alive.
Valkyrie is so brave that Mortal Coil is probably not only my favourite of the Skulduggery Pleasant books, but with its blend of edge-of-the-seat action, relieved with sharp comedy, it is definitely one of my favourite books ever. Merry Christmas!
Nicki Thornton is the author of Last Chance Hotel and the rest of the Seth Seppi Mysteries series. 
Barry Cunningham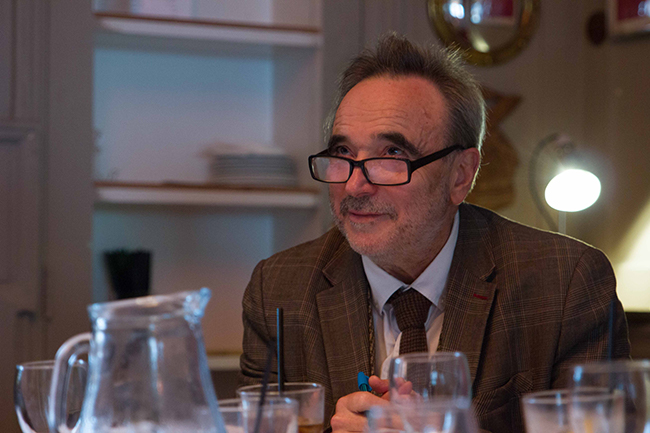 I love Christmas! Despite the tinsel and tat it brings out the little boy in me, and the wonder of magic and family. I was lucky enough to work with Raymond Briggs for years at Puffin – and my favourite books are still Father Christmas and Father Christmas Goes on Holiday. I still remember getting a famous letter of complaint about the venerable figure and a 'personal act of hygiene' when he went to the loo!
I have a soft spot too for C. S. Lewis and The Lion, the Witch and the Wardrobe but of course our new seasonal favourite is our own The Way Past Winter by Kiran Millwood Hargrave!
Keep up-to-date with all Chicken House news in 2020 by following us on Twitter and Instagram. See you there!