Chicken House acquires MOTH AND THE NIGHTINGALE
Posted by Jazz on Wednesday February 11th, 2015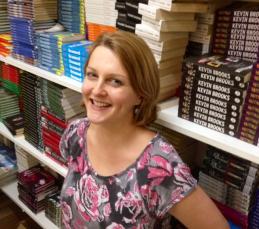 We're very excited to announce that we've recently acquired the debut novel from Lucinda Martin (right), MOTH AND THE NIGHTINGALE.
A poetic middle-grade novel, MOTH AND THE NIGHTINGALE tells the story of Henry, a young girl from a grieving family, whose life changes when she meets a witch-like old woman who lives in the woods. Her name is Moth. As Britain finds itself moving towards war, Henry turns to Moth for help - but soon realises she may be hiding some dark secrets of her own.
Chicken House's MD Barry Cunningham says, 'We are proud to publish Lucinda Martin's subtle and surprisingly modern interpretation of the lonely, bookish child, and some almost magical events in an enchanting house and wood, set between the wars.'
Our lovely Editorial Director, Rachel Leyshon, acquired MOTH AND THE NIGHTINGALE from Luigi Bonomi Associates in a world rights deal. It will be hitting the shelves in 2016 - keep your eyes peeled!
Follow Lucinda Martin on Twitter: @lucymartin
Follow Chicken House on Twitter: @chickenhsebooks
Follow Chicken House on Instagram: @chickenhousebooks