Calling all Kiran Millwood Hargrave Fans - NEW COVER ALERT!
Posted by Olivia Jeggo on Thursday November 25th, 2021
Yes, you heard us right - The Way Past Winter by bestselling author Kiran Millwood Hargrave is now sporting a brand new cover!
With winter well underway, and the season of goodwill fast approaching, this new edition of The Way Past Winter would look perfect under anyone's tree, with a cover to match the other epic books in the Kiran Millwood Hargrave universe.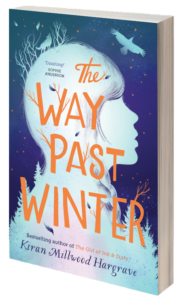 Mila and her sisters live with their brother Oskar in a small forest cabin in the snow.
One night, a fur-clad stranger arrives seeking shelter for himself and his men. But by the next morning, they've gone – taking Oskar with them. Fearful for his safety, Mila and her sisters set out to bring Oskar back – even it means going north, crossing frozen wild-lands to find a way past an eternal winter.
The gorgeous novel from the bestselling author of the Waterstones Children's Book Prize-winning The Girl of Ink & Stars and the Costa and Blue Peter Award-shortlisted The Island at the End of Everything.