OMG! Create a window spectacular with Chicken House and Maz Evans
This autumn, we're offering you the chance to get involved in an epic adventure with Maz Evans! We're celebrating the release of Oh Maya Gods!, the first instalment in Maz Evans' Who Let The Gods Out? spin-off series, by asking booksellers to put their best foot – and window displays – forward! 
An interview with: Lindsay Galvin
There's less than one week to go until Call of the Titanic hits the shelves ...
And to celebrate, best-selling author Lindsay Galvin shares what inspired her to write about the Titanic, and gives her best advice for aspiring middle-grade writers! Check out our interview below ...
What inspired you to write a story about the Titanic?
Back in 2016 I visited Belfast and the Titanic Experience, an epic museum, built in the size and shape of Titanic. I was fascinated, especially when I head the distress messages the ship sent by morse code, but knew I wouldn't attempt to write about the infamous disaster unless I could come up with a really fresh storyline. Years later I found a 1912 article about a Newfoundland dog Rigel who was reported to have been on the Titanic but probably wasn't, and I thought that was a great angle. But it wasn't until I researched the Carpathia — the ship that raced through the icy night to rescue the Titanic survivors — that I knew I had something original enough. When I discovered the Carpathia's Captain had made sightings of mythical sea serpents, I had all the elements to write Call of the Titanic!
How has writing this book felt different than writing your others, if at all?
Writing this book was a more intense experience than my others. The sheer amount of information, fiction and film about Titanic, made it feel quite daunting to research. I knew I wanted to make the scenes about the Titanic sinking to be as factual as possible so I based it on multiple survivors testimonies and they were so moving and sad to read! It also has a tight timeline, with much of the action taking place over 24 hours. I followed this to the letter as I've used the actual distress messages sent out by the telegraph operators on board. But right at the end of the process I had to rejig the timeline as I discovered 'Titanic Time' was different from 'New York time' and my sources used both! That took a bit of wrangling, to make sure it was as authentic as it could be, but I got there in the end with a bit of a hand from my publishing team.
What character would you say you relate to the most?
It would have to be Clara, mainly because I love my dog as much as she loves hers! She's quite flawed, a bit spoilt, but really brave and forthright. She was delicious fun to write, and hopefully to read — which is important, as she is on the Carpathia, and the mischief she gets up to with Rigel the dog plus her involvement in the rescue mission is the uplifting side needed to hopefully balance out the darkness of the disaster.
What advice do you have for budding middle-grade historical fiction writers?
Choose something to write about that you are fascinated by, your enthusiasm will filter to your readers. Two main things to avoid are confusion and boredom so simplify, be clear and make sure every scene moves the story forward or develops character — ideally both.
But most importantly, don't listen to any advice that makes you want to write less, only to that which inspires you... there's absolutely no right or wrong way to write any book!
Please sum up Call of the Titanic in three words.
Only three? Disaster, Survival, Friendship.
To learn more about Lindsay Galvin, click here.
To buy Call to the Titanic, click here. 
Meet the Judges for the Times/Chicken House Children's Fiction Competition 2023!
Posted by Olivia Jeggo on Friday April 7th, 2023
It's time to reveal our all-star lineup of judges for the 2023 competition ...
New Reads: November 2022
This month, we're bringing you TWO unmissable reads ...
New Reads: October 2022
Posted by Olivia Jeggo on Thursday October 13th, 2022
We are bringing you ONE new book this October ...
An interview with: Fran Hart
Posted by Olivia Jeggo on Friday October 7th, 2022
There's less than one week to go until The Other Ones hits the shelves ...
Times/Chicken House Competition 2022 Shortlist Reveal!
Posted by Olivia Jeggo on Friday September 30th, 2022
The Times/Chicken House shortlist is here!
Our Top Picks this Halloween
Posted by Olivia Jeggo on Friday September 23rd, 2022
Spooky season is officially here ... and we are GHOULISHLY excited!
Times/Chicken House Competition 2022 Longlist Reveal!
Posted by Kesia on Tuesday September 13th, 2022
The Times/Chicken House long list is here!
New Reads: June 2022
With June comes THREE brand new Chicken House titles ...
Introducing: My Friend the Octopus by Lindsay Galvin
Posted by Jazz on Thursday January 27th, 2022
We're very excited to announce a new middle-grade novel from the bestselling author of Darwin's Dragons, Lindsay Galvin: My Friend the Octopus!
Calling all Kiran Millwood Hargrave Fans - NEW COVER ALERT!
Posted by Olivia Jeggo on Thursday November 25th, 2021
Yes, you heard us right - The Way Past Winter by bestselling author Kiran Millwood Hargrave is now sporting a brand new cover!
With winter well underway, and the season of goodwill fast approaching, this new edition of The Way Past Winter would look perfect under anyone's tree, with a cover to match the other epic books in the Kiran Millwood Hargrave universe.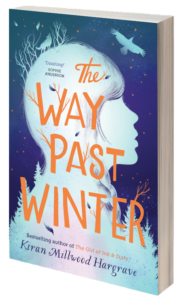 Mila and her sisters live with their brother Oskar in a small forest cabin in the snow.
One night, a fur-clad stranger arrives seeking shelter for himself and his men. But by the next morning, they've gone – taking Oskar with them. Fearful for his safety, Mila and her sisters set out to bring Oskar back – even it means going north, crossing frozen wild-lands to find a way past an eternal winter.
The gorgeous novel from the bestselling author of the Waterstones Children's Book Prize-winning The Girl of Ink & Stars and the Costa and Blue Peter Award-shortlisted The Island at the End of Everything. 
Chicken House acquires Freshers by Tom Ellen & Lucy Ivison
Posted by Jazz on Thursday February 11th, 2016
You may have already spotted it, but we're very pleased and excited to announce that we've bought the third novel from writing duo Tom Ellen & Lucy Ivison: Freshers!
Shortlisted for the inaugural YA Book Prize and the 2013 Times/Chicken House Children's Fiction Competition, the duo's debut book Lobsters was published to critical acclaim in 2014, while their second novel Never Evers hit the shops earlier this year.
Another laugh-out-loud dual narrative, Freshers is a YA novel following two protagonists through that tumultuous first year of university. Starring new characters – but featuring some familiar faces from Lobsters – Freshers is a contemporary, authentic story packed full of love, sex and friendship.
Coming August 2017 – keep an eye on the website for more details! And while you're waiting, why not check out Tom & Lucy's top 10 writing tips or watch their Never Evers vid below?
Follow Lucy Ivison on Twitter: @lucyivison 
New February Books!
Posted by Jazz on Friday February 5th, 2016
This month, we have strange islands, invisible animals and tantalising mysteries abound! Our February books are a wonderful mix of edge-of-your-seat thrilling, ethereally magical and code-crackingly adventurous. Here's a round-up of what's out this month! 
(more…)