Introducing: My Friend the Octopus by Lindsay Galvin
Posted by Jazz on Thursday January 27th, 2022
We're very excited to announce a new middle-grade novel from the bestselling author of Darwin's Dragons, Lindsay Galvin: My Friend the Octopus!
Calling all Kiran Millwood Hargrave Fans - NEW COVER ALERT!
Posted by Olivia Jeggo on Thursday November 25th, 2021
Yes, you heard us right - The Way Past Winter by bestselling author Kiran Millwood Hargrave is now sporting a brand new cover!
With winter well underway, and the season of goodwill fast approaching, this new edition of The Way Past Winter would look perfect under anyone's tree, with a cover to match the other epic books in the Kiran Millwood Hargrave universe.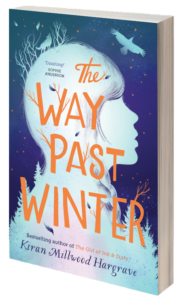 Mila and her sisters live with their brother Oskar in a small forest cabin in the snow.
One night, a fur-clad stranger arrives seeking shelter for himself and his men. But by the next morning, they've gone – taking Oskar with them. Fearful for his safety, Mila and her sisters set out to bring Oskar back – even it means going north, crossing frozen wild-lands to find a way past an eternal winter.
The gorgeous novel from the bestselling author of the Waterstones Children's Book Prize-winning The Girl of Ink & Stars and the Costa and Blue Peter Award-shortlisted The Island at the End of Everything. 
Chicken House acquires Freshers by Tom Ellen & Lucy Ivison
Posted by Jazz on Thursday February 11th, 2016
You may have already spotted it, but we're very pleased and excited to announce that we've bought the third novel from writing duo Tom Ellen & Lucy Ivison: Freshers!
Shortlisted for the inaugural YA Book Prize and the 2013 Times/Chicken House Children's Fiction Competition, the duo's debut book Lobsters was published to critical acclaim in 2014, while their second novel Never Evers hit the shops earlier this year.
Another laugh-out-loud dual narrative, Freshers is a YA novel following two protagonists through that tumultuous first year of university. Starring new characters – but featuring some familiar faces from Lobsters – Freshers is a contemporary, authentic story packed full of love, sex and friendship.
Coming August 2017 – keep an eye on the website for more details! And while you're waiting, why not check out Tom & Lucy's top 10 writing tips or watch their Never Evers vid below?
Follow Lucy Ivison on Twitter: @lucyivison 
New February Books!
Posted by Jazz on Friday February 5th, 2016
This month, we have strange islands, invisible animals and tantalising mysteries abound! Our February books are a wonderful mix of edge-of-your-seat thrilling, ethereally magical and code-crackingly adventurous. Here's a round-up of what's out this month! 
(more…)