An Interview with Times/Chicken House Comp winner - Richard Pickard!
Posted by Olivia Jeggo on Wednesday January 5th, 2022
With this year's competition well underway, we wanted to hear what it's like to submit your book, directly from a candidate ...
We had a chat with one of our past winners Richard Pickard, author of The Peculiar Tale of Tentacle Boy, to find out just what the competition process is like - from clicking that 'Submit' button, to accepting a winning award! If you're interested in finding out how it all works, what to watch out for and everything in between, hear it first hand from one of our past entrants ...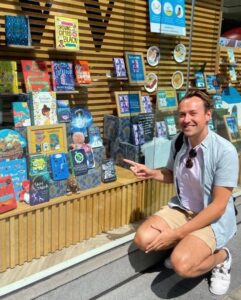 Could you briefly explain your experience entering, and winning, the Times/Chicken House competition – where did you hear about it, what were your initial thoughts, what made you want to enter the Times/Chicken House competition, what was your experience after submitting your manuscript?
I discovered the competition the very first time I went on the Chicken House website. I'd heard that Chicken House were to publish a book written by a friend of a friend, and since I was quietly writing my own children's novel in my spare time I wanted to see what I might need to do to follow in their footsteps.
Knowing that very few publishers accept unsolicited manuscripts I was intrigued to find details of competition and made a mental note, promising myself that one day – when I finally had a finished novel – I would enter.
I'd always kept the competition in mind and after few years went by I'd finally found the time to finish a draft of my story. I knew it would be highly competitive, but when I went to read the entry requirements for the umpteenth time in early 2019 I was delighted to find that my chances had been doubled by the addition of the Chairman's Choice. It felt serendipitous, because I knew that if I had any chance of winning a publishing deal then the Chairman's Choice was my best shot.
Months passed, and I always had the competition timeline ticking away in the back of my mind. I kept a close eye on social media, waiting for any sign that the team at Chicken House might be close to announcing a longlist, but despite all this I was still floored when an email came through to tell me that I'd made it.
What has author life been like since winning the competition?
Chicken House had always been my dream publisher, so I was quite nervous before the real work started. I had no idea whether I would be able to make the novel any better having already put so much time and energy into it. In reality, I absolutely loved the whole editing process from start to finish. It was incredible to have a team of people so invested in my barmy story which had been private for such a long time. There were so many fantastic ideas and suggestions flying about – not least from my brilliant editor, Kesia – and I can't believe how far it has come from that very first draft. I really surprised myself.
Being a published author has been one of the highlights of my life. There is nothing like visiting a bookstore and finding a copy sitting proudly in the window, or piled high on a display table. Getting to meet booksellers, sign copies, and hear directly from readers who have enjoyed my book has made every single moment of doubt and all those evenings hunched over a laptop completely and utterly worth it.
What was your favourite part of the competition experience?
It was so exciting to get to meet all of the other shortlisted authors, as well as the judging panel, on the day that the winners were decided. It made everything suddenly feel very real after weeks of disbelief. I remember thinking that spending an afternoon with all of these amazing industry insiders had been a prize in itself. It was comforting to share the experience with five other talented authors who had all been through the same process. We've become friends since, despite living quite far afield, and it's so great to see them go on to have their own great successes.
In hindsight, is there anything about your experience that you would change?
Nope…!! It all fell into place so brilliantly, I'd be scared to do anything different.
If you could give one piece of advice to anyone entering, what would it be?
Make sure that you are as happy as you can be with your manuscript before you send it in, and then try not to tinker with it too much more. I knew that I'd submitted a novel I could be proud of, which gave the whole process a sense of inevitability. I'd presented myself in the best way I could, and with my fate now in the hands of Chicken House it was almost a sense of relief. It was very exciting to know they would be reading my novel and not basing their decision solely on my synopsis or cover letter – despite these being important. That was one of the major benefits of entering a competing like The Times/Chicken House over more traditional routes to publication.
TO SUBMIT YOUR MANUSCRIPT FOR OUR TIMES/CHICKEN HOUSE COMPETITION 2022, CLICK HERE.
FOR MORE INFORMATION ON RICHARD PICKARD'S THE PECULIAR TALE OF TENTACLE BOY, CLICK HERE.