And the winner is ...
Posted by Kesia on Wednesday June 27th, 2018
On Wednesday 20 June, at 10.30am, we welcomed a prestigious panel of judges to the Artist's Residence in London Victoria for our 2018 judging day.
They had five incredible shortlisted entries to choose from and we (the Chicken House team) genuinely had no idea who would win! The atmosphere was relaxed as, over a selection of coffees, teas and pastries, the judges commenced a lively and creative discussion about our shortlist (and I scribbled frantically to note down their thoughts!).
Eventually, fifteen minutes before the shortlisted authors were due to arrive, a decision was reached. The shortlistees started to trickle in, and we gathered in a rather small area beside the table for our hellos before sitting down to lunch. We also welcomed Times Competition winner Nicki Thornton, who won in 2016 with her novel The Last Chance Hotel – out now!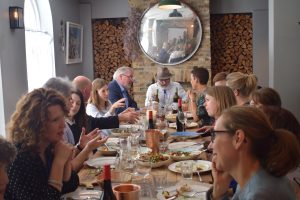 We kept the shortlisted authors waiting through the whole of the main course – perhaps a little cruelly! – before Barry stood up and called for everyone's attention. After a lovely speech including praise for each of the shortlisted entries, he announced the fantastic news that Trudi Tweedie had won the £10,000 prize for our 2018 Times Competition with her historical fantasy novel, The Lion and the Unicorn. She looked completely shocked and delighted.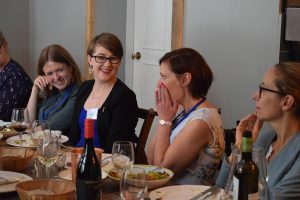 We're so thrilled to welcome Trudi to our list as our very first YA winner – I can't wait to work on this book, which we're aiming to publish in 2020. After lunch, our star judge, Chris Riddell, was kind enough to draw a sketch cover for each of the shortlist – and even a portrait of young judge and fan, Joe Brindle. I'm sure each one of them will treasure their drawing for ever!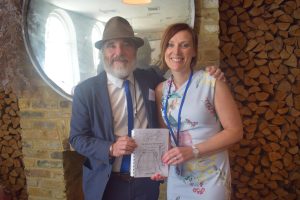 All in all, it was a wonderful day celebrating what I think was our strongest shortlist yet – congratulations to Trudi and the shortlisted authors, and thank you to our brilliant panel for their sound judgement and ideas.
Could this be you next year? The new competition is opening in August and closing in February 2019 – stay tuned for details!