Introducing #COOPEDUPKIDS!
Posted by Jazz on Tuesday April 7th, 2020
Presented as a digital festival of sorts, #COOPEDUPKIDS is a way of bringing the fun inside while we weather these strange lockdown times together.
While everyone's cooped up inside, we're serving up all the creative content you'll need to have fun with the kids and help their imaginations fly!
#COOPEDUPKIDS has four strands running side by side. Each week, every Wednesday and Sunday, we'll be sharing our brilliant authors reading aloud the first chapter of one of their books - these are our #COOPEDUPKIDS Story Sessions. Soon, we also hope to bring you our #COOPEDUPKIDS Author Interviews, where the writers themselves will be able to answer burning bookish questions!
We'll also be bringing you our #COOPEDUPKIDS Author Event Specials! These aren't your average book readings - oh no. The Author Event Specials are more akin to the sessions that our authors would run in schools or at book festivals, and you'll be able to watch from your own sofa.
Lastly, no Chicken House festival would be complete without the opportunity to get your hands on some new books. With our #COOPEDUPKIDS Downloads and Competitions, you might well have the chance to win some new stories! We'll also be dishing up some brilliant printables which we'd love you to share with us once completed.
You'll find all of this awesome content on the dedicated page in our Schools' Hub. Don't forget - we've also got heaps of educational resources for many of our bestselling books here too.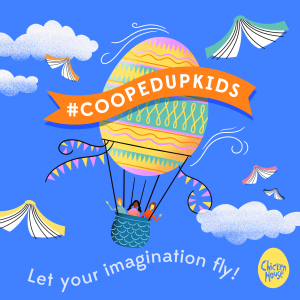 Be sure to also keep an eye on our Twitter, Instagram and Facebook pages as we'll be sharing a weekly #COOPEDUPKIDS schedule every Monday, as well as sharing all the content when it's live!
Let's get cracking!