*UPDATED* Online reading and COVID-19: the low down
Posted by Jazz on Tuesday January 12th, 2021
*UPDATED FOR 2021 – PLEASE READ*
These are challenging times for all of us and we are particularly sensitive to the needs of children to continue their learning and to reap the many benefits that literature brings them.
Chicken House have a range of resources to support home learning use by educators, administrators, and families listed below.
Chicken House
Resources
The Schools' Hub – a vast collection of teaching notes, chapter-by-chapter resources and videos, all relating to our books. This includes: WHO LET THE GODS OUT, BEETLE BOY and DARWIN'S DRAGONS.
#CoopedUpKids – a video-based resource that's full of reading and creative writing inspiration from many of our favourite authors.
First chapters for all Chicken House books are available on our website. Simply search for the required title, or explore through the 'Books' page, and you'll find the first chapter available as a PDF download.
Having reviewed the resources we are providing and taking account of the need to protect the copyright in our books we can confirm that online readings of books published by Chicken House are subject to the following conditions which apply throughout England, Scotland, Wales and Ireland. 
Online learning through schools
Whilst schools are continuing to teach remotely, online readings can take place through a password protected area of a school's website or through platforms such as Google Classrooms or similar.  Online readings should not be made publicly available online and only accessible by the students of the school.  The readings must be removed from the platform as from 1st April 2021.
Photocopies of books should continue to be carried out as per the terms of your CLA licence.
Should you have any queries regarding the use of our books by schools please contact elinor@chickenhousebooks.com.
Online readings by public libraries and bookshops
– A maximum of two books may be read for each of January, February and March 2021. 
– All videos are to be live or pre-recorded live readings and can be shown on the relevant library's official website or Facebook channel at the time of the reading only. 
– Videos are not to be made available for download or publicly available on any other social medial or digital platforms.
– The author and the illustrator (if any) are both fully credited together in the video.
– Chicken House is mentioned either in the video or in the description.
– No charge is allowed for these reading sessions.
***
For any other required usage of any of our books whether in part or in full please contract Kesia Lupo on kesia@chickenhousebooks.com.
Thanks for taking the time to read this update. Here's to staying happy and healthy!
Introducing #COOPEDUPKIDS!
Posted by Jazz on Tuesday April 7th, 2020
Presented as a digital festival of sorts, #COOPEDUPKIDS is a way of bringing the fun inside while we weather these strange lockdown times together.
While everyone's cooped up inside, we're serving up all the creative content you'll need to have fun with the kids and help their imaginations fly!
#COOPEDUPKIDS has four strands running side by side. Each week, every Wednesday and Sunday, we'll be sharing our brilliant authors reading aloud the first chapter of one of their books - these are our #COOPEDUPKIDS Story Sessions. Soon, we also hope to bring you our #COOPEDUPKIDS Author Interviews, where the writers themselves will be able to answer burning bookish questions!
We'll also be bringing you our #COOPEDUPKIDS Author Event Specials! These aren't your average book readings - oh no. The Author Event Specials are more akin to the sessions that our authors would run in schools or at book festivals, and you'll be able to watch from your own sofa.
Lastly, no Chicken House festival would be complete without the opportunity to get your hands on some new books. With our #COOPEDUPKIDS Downloads and Competitions, you might well have the chance to win some new stories! We'll also be dishing up some brilliant printables which we'd love you to share with us once completed.
You'll find all of this awesome content on the dedicated page in our Schools' Hub. Don't forget - we've also got heaps of educational resources for many of our bestselling books here too.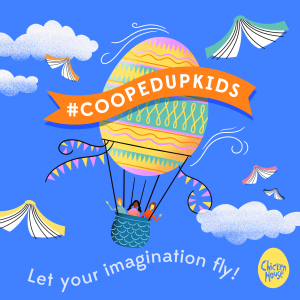 Be sure to also keep an eye on our Twitter, Instagram and Facebook pages as we'll be sharing a weekly #COOPEDUPKIDS schedule every Monday, as well as sharing all the content when it's live!
Let's get cracking!