New Reads: April 2021
Posted by Jazz on Thursday April 1st, 2021
Did someone say new books?
Happy April one and all – and what a month we have to come! Long weekends, bookshops opening their doors once more … oh, and four INCREDIBLE new Chicken House books to get stuck into!
There's really something for everyone in this month's release. Find out all you need to know about them below …
How to Save the World with a Chicken and an Egg by Emma Shevah
High-spirited Ivy believes she can talk to animals, while Nathaniel, a boarding-school boy, is obsessed with animal facts.
They come together unexpectedly on a cold English beach with the arrival of a rare and wondrous sea creature: a giant leatherback turtle who lays her eggs in front of the world's media. Soon they're on a mission to make a difference to the world – even if they have to do it one animal at a time ...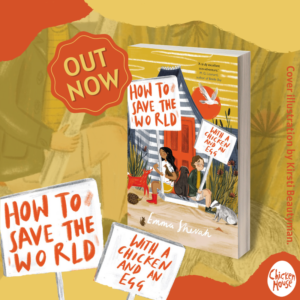 How to Save the World with a Chicken and an Egg is a brilliant adventure for eco-aware young readers aged 8 and above.
Find out more here.
Order your copy here.
A Secret of Birds & Bone (paperback) by Kiran Millwood Hargrave
In an Italian city ravaged by plague, Sofia's mother carves beautiful mementoes from the bones of loved ones.
But one day, she doesn't return home. Did her work lead her into danger? Sofia and her little brother Ermin are sent to the convent orphanage but soon escape, led by an enigmatic new friend and their pet crow, Corvith. Together they cross the city underground, following clues in bones up to the towers of Siena, where – circled by magpies – the children find the terrible truth …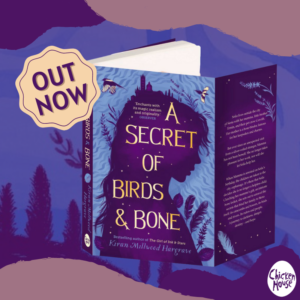 A Secret of Birds and Bone is a darkly beautiful historical novel, perfect for readers aged 10 and up. Full to bursting with Kiran's trademark lyricism infused with magic and wonder, this is a story with family and belonging at its heart, wrapped up in a mystery that'll have you reading page after page after page.
Find out more here.
Order your copy here. 
The Block by Ben Oliver
Luka is in prison again – but this time it's worse.
He's in the Block, a place where reality and simulation start to blur. But an audacious breakout reunites Luka and his friends at last. Hiding out in the heart of the destroyed city, Luka realises the scale of their mission to defeat all-powerful AI, Happy. How can they stay hidden, let alone win the war? Old friends and new – including annoyingly cheerful companion drone, Apple-Moth – hold the key to their slim chance of victory …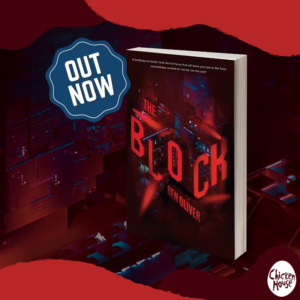 The sequel to acclaimed debut The Loop, The Block is a YA read intended for readers aged 14 and above. 
Find out more here.
Order your copy here.
White Fox in the Forest by Chen Jiatong
The quest continues as white fox Dilah and his friends follow the moonstone's guiding light, hearts set on transforming into humans.
Along the way, they discover hostile terrain, new friends, fearsome enemies and legendary magic – including a mythical enchanted forest which may be the answer to all their prayers … but can they pass the ultimate test and prove they have what it takes to be human? An epic tale of friendship, bravery and sacrifice awaits …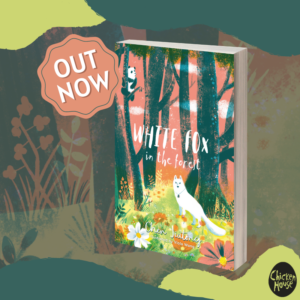 The second book in the White Fox series, White Fox in the Forest is translated by the award-winning Jennifer Feeley, with gorgeous black-and-white line illustrations by acclaimed Chinese-born artist Viola Wang – ideal for readers aged 9 and above!
Find out more here.
Order your copy here.