New Reads: September 2022
Posted by Olivia Jeggo on Thursday September 1st, 2022
TWO brand new Chicken House stories are hitting the shelves this September ...
And with magic and mayhem abundant in both, we wish you good luck with choosing your first read! Whether you're a fan of tings that go bump in the night, or a warm hug-of-a-story, get ready to explore these two brand new adventures ...

Hen dreams of becoming a spell tailor, stitching magic into clothing like his beloved Nana.
But thanks to new factories, spell tailors are struggling. His Uncle Bertie's fancy shop has shut down, and when he, Aunt Lucia and stuck-up cousin Connie move in, it's a disaster for all the family.
Then Hen stumbles upon a new kind of stitch – one which causes Nana and Bertie to ban him from sewing.
What is the power of the stitch that can sew memories into clothes – and could it be the very thing to save them all?
Explores the real magic of clothes as Hen, a spell tailor's apprentice, struggles to master his family craft – and discovers a new kind of stitch in the process!
Read chapter 1 of THE SPELL TAILORS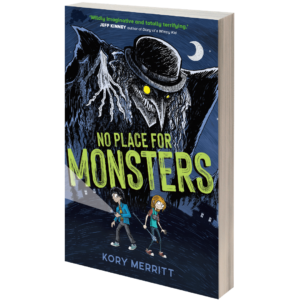 Nothing is out of place in the quiet suburban town of Cowslip Grove.
But kids have been going missing – and only Levi and Kat notice.
It's up to them to save the missing kids before a hidden evil swallows the town whole …
A spellbinding, original and lavishly illustrated horror story for middle-grade readers. Half-written, half-graphic novel, and all spooky mystery!
Read chapter 1 of NO PLACE FOR MONSTERS