TOP 5 FRIDAY: Animal companions
Posted by Jazz on Friday September 18th, 2015
Beware of spoilers! You'll be surprised to find that this is the first Top 5 for a long, long time where a Harry Potter character has not been mentioned. Although a lot of us were itching to write about Hedwig (*sobs*), there were other companions we absolutely couldn't miss out – and since we have SO many fantastic animal pals in CH books (see the brilliant Baxter in the header photo – you'll find out more about him soon), we decided to look further afield. Here are five of our faves ...  (more…)
TOP 5 FRIDAY: First Lines
Posted by Jazz on Friday August 28th, 2015
This week's top 5 is written by Cara Waudby-Tolley, who spent last week with us completing work experience! 
Beginning a good book is like taking a bite from something delicious, you just know that you'll have to control yourself from gobbling it all down quickly and savour the greatness. For me, the first line of a book encapsulates the essence of what is yet to come, a thrilling and exciting journey. Here are five of my faves. (more…)
TOP 5 FRIDAY: Time Travellers
Posted by Kesia on Friday August 21st, 2015
I love history. I love science fiction and fantasy. AND I love children's books. So time traveller children's books are literally MY CUP OF TEA (ok, not literally) and the perfect curl-up companions. Reading is a little like travelling through time, isn't it? Here are a few of my favourites. (more…)
TOP 5 FRIDAY: Professional Pirates
Posted by Jazz on Friday August 14th, 2015
When I was younger, I wanted to be a 17th century pirate when I grew up (to the point that when there was a 'pirates and princesses' day at school, I was the only female pirate). As I got a bit older it dawned on me that a pirate's life was not for me, being a buccaneer of the high seas was sadly not a plausible career option, and I'd be much better off reading about them instead. Here's my pick of the best swashbucklers in literature … AHOY! (more…)
TOP 5 FRIDAY: Dystopian Worlds
Posted by Laura on Friday July 31st, 2015
OK, so a dystopian world doesn't really sound like it'd be top of anyone's holiday list, but some of places I read about sound so much more interesting than the real world I almost wish I was there. Almost. Here's the run-down of the best five … (more…)
TOP 5 FRIDAY: Boarding Schools
Posted by Kesia on Friday July 10th, 2015
To an eternal day-school girl, boarding schools are glamorous, thrilling and scary – the friendships! The adventures! The midnight feasts! I was jealous and awed by my boarding contemporaries, their grown-up independent polish and knack for excitement. But it's not all jolly hockey-sticks, of course (and, if I'm honest, I wouldn't exchange home comforts for dorm and prep in a million years) … (more…)
TOP 5 FRIDAY: Parisian Stories
Posted by Jazz on Friday July 3rd, 2015
Who wouldn't want to read a book set in the beautiful city of Paris? Paris has all the very best things to do: gazing at the Eiffel Tower at night, a romantic walk along the Seine, and (of course) a trip to Disneyland (in my opinion, it's a travesty there aren't more books set IN Disneyland).  Luckily, we're spoilt for choice ... (more…)
TOP 5 FRIDAY: Kid Detectives
Posted by Rachel L on Friday May 29th, 2015
TOP 5 kid detectives
Detectives have to be more than just plain nosy – only the truly tough, steely and determined will get to the bottom of the crime. As Humphrey Bogart says in 'The Big Sleep' (when asked why he keeps on investigating):  'Too many people told me to stop.'  (more…)
TOP 5 FRIDAY: Tea Times
Posted by Kesia on Friday May 8th, 2015
We're big tea fans at the Coop, and we'll never say no to a sliver (read: wedge) of Victoria Sponge. Plus, after the Curses, Castles and Deaths of our last three top fives, we reckon it's high time for a bit of light relief. Well, light-ISH ...
1. Alice's Adventures in Wonderland by Lewis Carroll
'We're all mad here!' exclaims the Hatter. And indeed, this Tea Time Of All Tea Times - which lasts, literally, for ever - is characterised by unanswerable riddles and nonsensical poetry. And, naturally, tea. Turns out Time has punished the Hatter by evoking an everlasting six o'clock. Alice reckons it's the stupidest party she's ever been too, but I rather fancy an eternity of cake ...
TOP 5 FRIDAY: Literary Crushes
Posted by Rachel L on Friday April 10th, 2015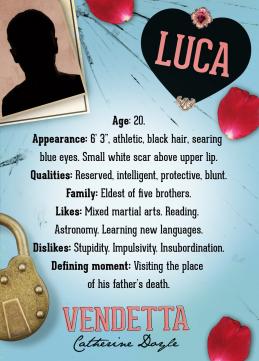 Setting aside the possibly unhealthy habit of fancying people in books rather than in real life (how can anyone ever measure up to Will Parry's determination to drift about in atoms until he finds Lyra again?) we are of course spoilt for choice in literary worlds. Here's a mix of suitable boys and very bad boys who only exist in our fevered imaginations - but we love them all.
1. THE FIRST CRUSH: Gilbert Blythe from Lucy Maud Montgomery's Anne of Green Gables
Although there's close competition from Laurie in Little Women (how could Jo dump him), the moment Gilbert pulled Anne Shirley's braid and called her 'carrots' is hard to beat. Handsome, persistent (for years), intelligent and romantic ('I don't want your friendship, Anne...'), Gilbert doesn't have ANY faults.
2. THE ALL-AMERICAN CRUSH: Jay Gatsby from F. Scott Fitzgerald's The Great Gatsby
Those infamous, expensive parties are all for Daisy and the promise of the green light at the end of the dock. Fabulously wealthy, he's just a dreamer at heart and gets it all wrong trying to impress one (undeserving!) girl. The serious 'lifetime achievement' vote in this category should go to Atticus Finch for inspiring moral courage that has endured for more than half a century.
3. THE DISTURBING CRUSH: Edward Cullen from Stephenie Meyer's Twilight
The noughties cannot be mentioned without him, or are we all thinking of R-Pattz? Disturbing because his Byronic looks, the sparkling marble skin, the superhuman abilities, disguise the fact that he's a terrifying predator. But as his fans would say, it's not his fault he's a telepathic vampire ...
4. THE CLASSIC CRUSH: Marius Pontmercy from Victor Hugo's Les Misérables
Tempting though it is to choose swashbuckling d'Artagnan or vengeful Edmond Dantes, the animal Heathcliff or the repressed Mr Darcy ('In vain have I struggled!'), it's the idealistic revolutionary Marius that wins our vote. Susan Fletcher's Eponine might have said she was only 'a little' in love but who was she kidding, really?
5. THE FIGHT-TO-THE-DEATH CRUSH: Luca Falcone from Catherine Doyle's Vendetta
Who would you trust when you're fighting for your life? In The Hunger Games there's Gale and Peta - difficult choice. In Catherine Doyle's Vendetta you get five hot mafia brothers - nightmare decision! But ultimately, are you on Team Nic or Team Luca? And before you ask, no - you can't have more than one ...
Who have we missed? Let us know by tweeting us at @chickenhsebooks!
TOP 5 FRIDAY (ish): Awesome Archers
Posted by Jazz on Monday March 30th, 2015
I know it's not actually Friday, but we were so excited about the announcement of this year's Times/Chicken House Children's Fiction Competition winner that there just wasn't any room to fit in a top 5 last week!
1. Robin Hood
Not strictly in a children's book, but Disney's classic animated film put him firmly on the metaphorical bow-wielding map. He's the original archer - the inspiration behind countless others, and is cool even as an anthropomorphic fox. Not bad going.
2. Katniss Everdeen from The Hunger Games trilogy
The girl on fire herself! Katniss is the YA heroine of the 21st century (Hermione excluded), and it's her power with a bow that makes her so awesome. She's the one out there providing for her family, shooting down deers and pheasants - just using her archery skills and her penchant for breaking rules. And let's not forget [SPOILER ALERT] ending the Hunger Games and initiating a revolution. Awesome.
3. Legolas from The Lord of the Rings trilogy
It's well-known that Legolas is a master archer and I'd like to say that it's his archery skills that earn him a place on this list ... but really it's the hair. Anyone that manages to have hair that long and glossy and not get it tangled in their arrows deserves a mention.
4. Susan Pevensie from The Chronicles of Narnia series
Susan has a bit of an unfair advantage by having a bow that never misses - but she's not one for slacking off, practicing as much as she can to make sure she's the best. And she becomes Queen of Narnia at the age of 12.
5. Merry Owen from Longbow Girl
Ah, I won't reveal too much here. Merry is a heroine for the past and present and very much deserves a place on the list - but you'll have to wait until September to find out why!
Are there any we've missed? Let us know by tweeting us at @chickenhsebooks!
TOP 5 FRIDAY: Horse stories
Posted by Rachel H on Friday March 13th, 2015
We couldn't include a top five cat list without considering our top five horses! Here's Rachel Hickman on the horse friends that have stood the test of time.
1. For determined girls who love ponies, Patricia Leitch's For Love of a Horse is unforgettable. Jinny lives in the Scottish highlands with Shantih the chestnut Arab, who she saves from an accident and who - as she thrillingly learns in the sequel - is A Devil to Ride!
2. We couldn't fail to mention K. M. Peyton's sweepingly romantic modern classic, Flambards. Meet Sweetbriar, the strawberry roan who teaches Christina to ride. In the process, the horse brings her close in different ways to the three boys who become the men in her life.
3. The 1941 novel We Couldn't Leave Dinah by Mary Treadgold was already a classic by the time I discovered it. It's the story of a girl who won't leave her pony, Dinah, when the Nazis invade her fictional Channel island.
4. For contemporary readers is Lauren St John's The One Dollar Horse. City girl Casey Blue rescues a half-starved horse and makes her dream come true of riding at Badminton Horse Trials. Thrilling, moving and filled with the sort of equine detail that real riding girls love.
5. Riders by Jilly Cooper. Coming way up the age-group with bags of content, huge teen appeal and epicly plotted naughtiness, nothing beats Jilly's sense of fun or her love of animals and the countryside. Follow the restless romance and domestic disasters of Fen, Tory, Jake and the appallingly behaved Rupert Campbell Black as well as their devoted horses including the Bull, Sailor, Africa and the magnificent avenging Macaulay.
Rachel Hickman is the Deputy MD of Chicken House Publishing Ltd. Her debut novel for young teens about love, loss and horses comes out next spring. One Silver Summer will be published by Scholastic Inc.
TOP 5 FRIDAY: Cats
Posted by Laura on Friday March 6th, 2015
Cats are the kings of the literary jungle. As Mark Twain put it, 'If animals could speak, the dog would be a blundering outspoken fellow; but the cat would have the rare grace of never saying a word too much.' Also, as the epitome of cuteness and playfulness, two things we love at Chicken House, cats in children's fiction seemed the perfect topic for this week's top 5. Publishing Manager Laura picks the best of the bunch …
5. Mog from Meg & Mog
As one of the first literary cats of my childhood, Mog deserves a mention. Mog is certainly not your average cat: he's easy-going (he puts up with a lot of Meg's antics), he's stripy (so alternative for a witch's cat) and super adventurous (how many other cats do you know that have gone to space AND met a yeti?).
4. Fiddlesticks from Calling on Dragons
Not only did this book convince me that cats can really talk to their owners – you just have to listen to them … oh, and take a magic potion … – but it also firmed up my opinion that cats are the best animals of all. Disdainful yet adorable, proud but playful, Morwen's cats cover the whole spectrum of cat characteristics. Although it's almost impossible to choose between Jasmine, Murgatroyd, Fiddlesticks, Miss Eliza Tudor, Scorn, Trouble, Jasper Darlington Higgins IV, Chaos and Aunt Ophelia, Fiddlesticks wins it by a whisker.
3. Kirjava from His Dark Materials trilogy
Ok, so not technically a cat, but if it looks like a large multi-coloured feline, it's a cat in my book. As Will's dæmon, she is literally a part of Will's soul – and Will's one of my favourite literary heroes ever. And named by a witch? You can't get cooler than that.
2. Crookshanks from the Harry Potter series
A cat firmly in the much-maligned category. Gorgeous, despite being a little funny-looking (how can a huge, fluffy ginger cat not be gorgeous?!). Super-intelligent, he's clued up about Pettigrew from the start. So loyal to Sirius that he literally sits over his heart to prevent his murder. Plus the added bonus of his tendencies to play adorably with Butterbeer corks or chase gnomes. Enough said.
1. Buttercup from The Hunger Games trilogy
Buttercup's got a bad rep, but he's effectively the feline version of Katniss: unfriendly, stand-offish, an amazing hunter, the ultimate survivor and protector of Prim. So if you love Katniss, you've gotta love Buttercup …
Any more favourite felines to add to the list? Let us know by tweeting us at @chickenhsebooks!
TOP 5 FRIDAY: Magical Libraries
Posted by Kesia on Friday February 20th, 2015
We're BIG fans of libraries here in the Coop - so much so, that our Junior Editor Kesia has picked out her fictional favourites!
1. HOGWARTS LIBRARY
Ah, the vast, towering shelves! The gothic gloom! The bad-tempered librarian with a terrifying glare! All classic features of the magical library. But most enticing of all is the spine-tingling temptation of the Restricted Section ... ooooo ...
2. THE LIBRARY IN MATILDA
It's at once an ordinary library, and utterly extraordinary - it's the humdrum accessibility of Matilda's local that makes it magical. It's a library you or I or any bookworm could visit: we, too, could stuff our brains full of knowledge and learn telekinesis. (Well, maybe not that last bit ...)
3. THE LIBRARY IN DOCTOR WHO
Because this library is the size of a planet - A PLANET - and contains copies of every book ever written. EVER.
4. SUNNYDALE HIGH SCHOOL LIBRARY IN BUFFY
As well as being Vampire Slayer HQ, its uniquely attractive features include charming-bumbling librarian Giles and a fabulous collection of hefty tomes on the paranormal. And you can still use it to revise for your finals. Awesome and useful.
5. BELLE'S LIBRARY IN THE BEAUTY AND THE BEAST
What bookworm princess hasn't dreamed of these soaring, romantic, impossible-in-real-life gold-gilded bookshelves?! This is a library with the style of a ballroom - a roaring fire, a spinning globe, a glassy tiled floor fit for recreational sock-sliding (in between all the reading, of course). Bliss.
Do you agree? Let us know what you think by tweeting us at @chickenhsebooks!