Happy book birthday to our January titles!
Posted by Jazz on Thursday January 5th, 2017
Happy new year! And we have an awesome month of books for you to start the year off RIGHT. It's still pretty cold, so why not snuggle up in bed with one of these three fabulous reads?

First up is Mafiosa, the explosive finale to Catherine Doyle's inimitable Blood for Blood series – the first two books, Vendetta and Inferno, have had rave reviews across the board. Think Romeo & Juliet meets The Godfather – but with a badass heroine, five gloriously hot Mafia brothers and plenty of action to keep you on your toes. If you haven't read them yet, what are you waiting for? Order a copy of Vendetta to get you started.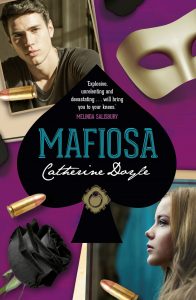 We also have The White Tower, the new middle-grade novel from the author of The Wolf Princess, Cathryn Constable. Dreamy, ethereal and poignant, this is a rich and atmospheric story of a lonely girl coming to terms with the death of her best friend and finding a way to let go of her pain.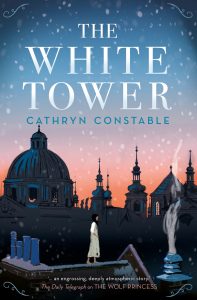 Finally, be sure to check out the second in Sarah Rubin's Alice Jones adventures, The Ghost Light. Fan of Robin Stevens or Katherine Woodfine? Love old-school mysteries and 21st century heroines? This is the series for you! Check out the first chapter of the first book, The Impossible Clue, here.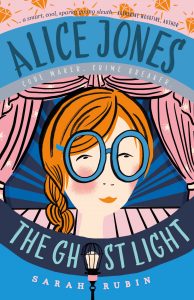 NaNoWriMo Nov Day 24: Cathryn Constable
Posted by Jazz on Thursday November 24th, 2016
Today it's the turn of the wonderfully talented Cathryn Constable, author of the bestselling wintry adventure The Wolf Princess and her stunning new novel, The White Tower. (more…)
White Tower
Livy is stunned when she is offered a place at Temple College, a prestigious school for the very brightest – because she is not.
Recently, Livy's been drawn to the roof, where, among its towering stone angels, she has the strangest desire to fly. But her behaviour is noticed by others, for whom the ability to defy gravity is a possible reality … one that they'll stop at nothing to use for their own ends.
Alchemy meets dreamy reality in this new atmospheric adventure from the worldwide bestselling author of The Wolf Princess. 
Wintry reads!
Posted by Jazz on Tuesday December 1st, 2015
It's December, which officially means WE CAN GET EXCITED ABOUT CHRISTMAS. My advent calendar is out, you cannot see my desk for tinsel and I'm considering buying a vat of hot spiced apple juice. And what better to get you in the wintry mood than curling up with a CH read? (more…)
Cathryn Constable
Cathryn Constable read Theology at Cambridge University before working for Vogue, W, Elle Decoration, Elle and The Independent. She also wrote for a number of publications including Tatler and The Sunday Times before turning her hand to writing for children.
The Wolf Princess, Cathryn's first novel for Chicken House, has sold over 100,000 copies worldwide and was shortlisted for the Waterstones Children's Book Prize 2012. Her newest novel, The White Tower, published in January 2017. Cathryn is married with three children and lives in Islington, London.
Wolf Princess
Over 100,000 copies sold worldwide! A beautiful reissue edition of Cathryn Constable's bestseller, shortlisted for the Waterstones Children's Prize and the Specsavers National Book Awards.
Lost diamonds, white wolves, and a princess's secret ...
Sophie and her friends, Marianne and Delphine, are surprised to win places on a school trip to Russia. But the trip does not go as expected. Abandoned on an express train heading out of St Petersburg, the girls are thrown out at a disused station, where they are rescued and taken to the beautiful but faded Volkonsky Winter Palace as guests of the exotic Princess Anna Feodorovna Volkonskaya.
Guarded by white wolves, the princess is an enigmatic figure, desperately searching for a rope of lost diamonds that could overturn the Volkonsky bad fortune. At first the girls are mesmerised by her stories, but when she takes a special interest in Sophie, they begin to be afraid.
Exciting, atmospheric, romantic and stylish, The Wolf Princess is a timeless fairy tale and mystery-adventure about a girl who discovers she is so much more than she thinks she is.