Wintry reads!
Posted by Jazz on Tuesday December 1st, 2015
It's December, which officially means WE CAN GET EXCITED ABOUT CHRISTMAS. My advent calendar is out, you cannot see my desk for tinsel and I'm considering buying a vat of hot spiced apple juice. And what better to get you in the wintry mood than curling up with a CH read?
The Wolf Princess by Cathryn Constable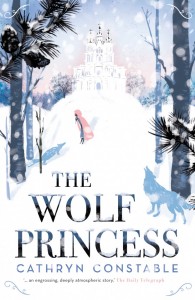 The Wolf Princess is an absolute gem of a book. Previously a Waterstones Children's Book of the Month, this is a beautiful modern fairy tale with plenty of snow, wolves and diamonds …
On a school trip to Russia, Sophie and her two friends find themselves on the wrong train. They are rescued by the beautiful Princess Anna Volkonskaya, who takes them to her winter palace and mesmerises them with stories of lost diamonds and a tragic past. But as night falls and wolves prowl, Sophie discovers more than dreams in the crumbling palace of secrets …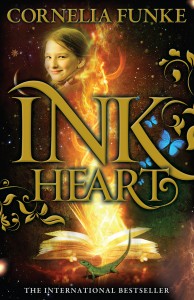 Ok, so there's no snow or winter or Christmas in this book, BUT Cornelia Funke's Inkheart is the perfect read to curl up with by the fire. Thrilling, magical and enchanting, Inkheart is the tale of a girl who can bring stories to life by reading them out loud. The perfect gift for a booklover!
Meggie loves stories, but her father, Mo, hasn't read to her since her mother disappeared. When a stranger knocks at their door, Mo is forced to reveal an extraordinary secret – when he reads aloud, words come alive, and dangerous characters step out of the pages. Suddenly Meggie is living the kind of adventure she has only read about in books, but this one will change her life for ever.
Never Evers by Tom Ellen & Lucy Ivison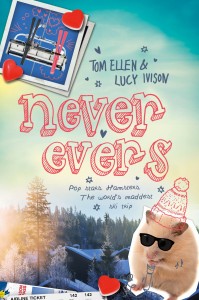 This is a bit unfair, as strictly speaking Never Evers isn't out until January – and if you haven't added it to your Goodreads 'Want to Read' list yet WHAT ARE YOU WAITING FOR? The new book from Lobsters authors Tom Ellen and Lucy Ivison is just as hilarious, heartwarming and genuine as the last – but this time, there's the added bonus of a school ski trip!
Kicked out of ballet academy, Mouse is hating the school ski trip. Jack was sure it'd be filled with danger and girls, but hasn't a clue about either. That's until French teen sensation Roland arrives in the resort – and Jack's a dead ringer for him. After Roland persuades Jack to be his stand-in for a day, Jack, in disguise, declares his feelings for Mouse. But what happens when he's no longer a pop star – will there still be music and magic on the slopes?
We want to know your favourite winter reads – tweet us at @chickenhsebooks!