An interview with: Fran Hart
Posted by Olivia Jeggo on Friday October 7th, 2022
There's less than one week to go until The Other Ones hits the shelves ...
And to celebrate, we had a chat with debut author Fran Hart about the children of Holden and all things spooky! Check out our interview below ...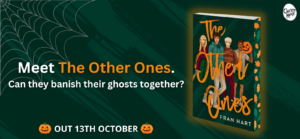 For anyone who doesn't know, what is The Other Ones about?
The Other Ones is a queer ghostly YA love story. It centres around Sal, who lives in a haunted house, and the unlikely friendship he develops with the new boy in town, Pax. While the book has elements of a ghost story, it's mostly about being different and finding your place in the world.
Which character would you say you are most like: Sal, Pax, Elsie or Dirk?
I'd love to be like Pax. He is both thoroughly weird and completely at peace with who he is. But I think, really, I'm more like Sal. I'm a real introvert, just like him, and we both have a terrible coffee addiction. He can be a bit grumpy, but his family and friends mean everything to him. I definitely found him very easy to write!
Which part of the book was your favourite to write?
The entire book is a love letter to autumn. I wrote it in November (for National Novel Writing Month) and loved including all my favourite parts of the season: pumpkin spice, crunchy leaves, Halloween parties and toasted marshmallows. The two chapters I enjoyed writing the most take place on Halloween and Bonfire Night.
What are your favourite other spooky books/films/TV shows that you would recommend to anyone reading?
I love so many spooky books that it's hard to choose. My current favourites are Cemetery Boys by Aiden Thomas and The Dead and the Dark by Courtney Gould. I also love graphic novels. Two brilliant ones for autumn are Sheets by Brenna Thummler and Mooncakes by Wendy Xu and Suzanne Walker. My favourite spooky films would have to be Practical Magic, and The Craft. Two witchy classics! For TV, I'm a big fan of Good Omens and, of course, Stranger Things. For cosy autumn vibes it's hard to beat Gilmore Girls. But I think Buffy the Vampire Slayer will forever by my favourite.
What advice would you give to anyone looking to become a writer?
Write to make yourself smile. And don't push through the boring bits to get to the fun bits. If something is boring, scrap it and make it fun instead. Get to know your characters and have a good time writing them. If you click with your characters then, at a certain point, they almost seem to take over and start writing themselves.  I think that's when you know you're on to something good!
TO LEARN MORE ABOUT FRAN HART, CLICK HERE.
TO BUY THE SPRAYED-EDGE EDITION OF THE OTHER ONES, CLICK HERE.