Happy book birthday to our January titles!
Posted by Jazz on Thursday January 5th, 2017
Happy new year! And we have an awesome month of books for you to start the year off RIGHT. It's still pretty cold, so why not snuggle up in bed with one of these three fabulous reads?

First up is Mafiosa, the explosive finale to Catherine Doyle's inimitable Blood for Blood series – the first two books, Vendetta and Inferno, have had rave reviews across the board. Think Romeo & Juliet meets The Godfather – but with a badass heroine, five gloriously hot Mafia brothers and plenty of action to keep you on your toes. If you haven't read them yet, what are you waiting for? Order a copy of Vendetta to get you started.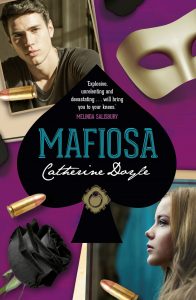 We also have The White Tower, the new middle-grade novel from the author of The Wolf Princess, Cathryn Constable. Dreamy, ethereal and poignant, this is a rich and atmospheric story of a lonely girl coming to terms with the death of her best friend and finding a way to let go of her pain.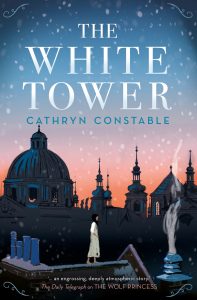 Finally, be sure to check out the second in Sarah Rubin's Alice Jones adventures, The Ghost Light. Fan of Robin Stevens or Katherine Woodfine? Love old-school mysteries and 21st century heroines? This is the series for you! Check out the first chapter of the first book, The Impossible Clue, here.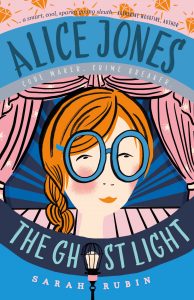 NaNoWriMo Nov Day 14: Catherine Doyle
Posted by Jazz on Monday November 14th, 2016
Today the fantastic Catherine Doyle, author of the deliciously dark Blood for Blood series, shares her top writing tips ... (more…)
IT'S NEARLY YALC TIME!
Posted by Jazz on Monday July 25th, 2016
It's nearly the BEST time of year again: YALC WEEKEND!!! Yup, the weekend where all the wonderful book people converge in one room of dreamy bookish heaven is nearly here. Team Chicken will be setting up camp for the whole weekend – come and visit our stall for some GREAT book chat, discounted YA reads and (of course) freebies! Here's an idea of the stuff we're doing over the weekend ... (more…)
Romantic reads!
Posted by Jazz on Sunday February 14th, 2016
It's Valentine's Day! Why not start off the most romantic day of the year with some of our most romantic reads? Whether it's an epic time-slip romance, a hilariously awkward teen comedy or a dark and dangerous Mafia tale: we've got something for everyone ...  (more…)
Inferno is out today!
Posted by Jazz on Thursday January 7th, 2016
To celebrate the release of Inferno, the second explosive installment in the Blood for Blood trilogy, today we have a guest post from author Catherine Doyle!  (more…)
TOP 5 FRIDAY: Bad Boys
Posted by Jazz on Friday October 16th, 2015
You love them, yet you know you should hate them. Here are the ones that make the butterflies in my stomach just start buzzing away …
TOP 5 FRIDAY: Fierce Heroines
Posted by Jazz on Friday July 24th, 2015
There are so many women in literature who I just want to be – so many that I actually had to draw up a list to narrow down before writing this top 5. I'm very aware that there are some very important heroines who aren't in this list ('WHERE IS KATNISS?', the reader cries) so these are just a fraction of my top heroines. To list them all would mean writing for weeks. (more…)
YALC IS NEARLY HERE!
Posted by Jazz on Wednesday July 15th, 2015
Only TWO MORE DAYS until YALC!!! Have I given away how excited we are? We have got a whole host of treats for YALC-goers (not least lots of fabulous book chat from Chicken House staff) which can all be found on our publisher stand in the Book Zone. Come and chat to us about your favourite YA (we LOVE to talk YA) and nab a couple of freebies! (more…)
Inferno
The thrilling sequel to Vendetta, first in the Blood for Blood trilogy ...
Sophie's life has been turned upside-down, and she's determined to set things right. But Nic, the Falcone brother who represents everything she's trying to forget, won't give up on their love – and it's Luca's knife she clutches for comfort.
Soon another Mafia clan spoils the fragile peace – and with her heart drawn in one direction and her blood in another, Sophie's in deeper than ever …
Catherine Doyle
Catherine Doyle was born in Ireland in 1990. Her debut YA novel, Vendetta, is inspired by Shakespeare's Romeo and Juliet and classic Mafia culture, and set in modern-day Chicago, where Catherine's mother grew up. The sequels, Inferno and Mafiosa, are out now.
VENDETTA BLOG TOUR
Posted by Jazz on Monday January 26th, 2015
Today we're kicking off Catherine Doyle's blog tour for her thrilling YA romance VENDETTA! Romeo and Juliet meets The Godfather, VENDETTA is a gritty, romantic and totally compelling story you won't want to miss!
For Sophie, it's a long dull summer in the Chicago suburbs until five mysterious brothers move into her neighbourhood. A chance encounter with one of them leaves her breathless. But all is not what it seems.
As the secrets of Nic's Sicilian heritage emerge and Sophie falls deeper into his world, her own family skeletons come to life. Caught up in a twisted game of revenge between two warring dynasties, the choice between love and family suddenly comes at a deadly price.
You can catch posts from now until 4th February at the blogs below:
26th January - SISTER SPOOKY & WONDROUS READS
27th January - QUEEN OF CONTEMPORARY
28th January - FLUTTERING BUTTERFLIES
29th January - BLAME MY BOOKSHELF
30th January - RAISING IRELAND & NAYU'S READING CORNER
2nd February - THE OVERFLOWING LIBRARY & SERENDIPITY REVIEWS
3rd February - WRITING FROM THE TUB
4th February - LUNA'S LITTLE LIBRARY & THE BIBLIOMANIAC
You can read the first chapter of VENDETTA here!
Follow Catherine Doyle on Twitter: @doyle_cat
Follow Chicken House on Twitter: @chickenhsebooks
Vendetta
When five brothers move into the abandoned mansion next door, Sophie Gracewell's life changes for ever.
Irresistibly drawn to bad boy Nic, Sophie finds herself falling into an underworld governed by powerful families.
When Sophie's own family skeletons come to life, she must choose between two warring dynasties – the one she was born into, and the one she is falling in love with. When she does, blood will spill and hearts will break …