Our Top Picks this Halloween
Posted by Olivia Jeggo on Friday September 23rd, 2022
Spooky season is officially here ... and we are GHOULISHLY excited!
Here at the coop, we are full steam ahead into the pre-Halloween preparations - from pumpkin decor to party planning! If you're looking to start building your spooky tbr this October, we have a list of books that we recommend you run out and grab now, while you still have time!

Nothing is out of place in the quiet suburban town of Cowslip Grove.
But kids have been going missing – and only Levi and Kat notice.
It's up to them to save the missing kids before a hidden evil swallows the town whole …
A spellbinding, original and lavishly illustrated horror story for middle-grade readers. Half-written, half-graphic novel, and all spooky mystery!
Read chapter 1 of NO PLACE FOR MONSTERS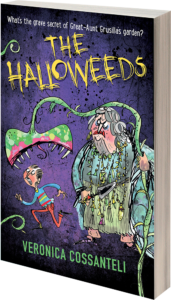 Dan promised he'd look after his siblings, but he hadn't bargained on his scientist parents dying on a jungle research trip.
The children decamp to crumbling Daundelyon Hall where horrible Aunt Grusilla reigns supreme, tending her mysterious graveyard garden.
But why are Aunt Grusilla and her servants missing a finger? What are the hungry 'Cabbages' in the greenhouse?
As Dan struggles to solve the mystery he encounters one final question: what's the price of everlasting life?
An atmospheric, scary and funny middle-grade mystery about a boy who discovers an intriguing family secret.
Read chapter 1 of THE HALLOWEEDS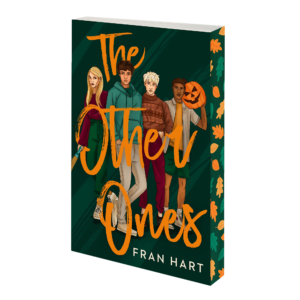 Sal lives in a haunted house.
He longs to be ordinary, but when the strangest of strangers arrives on his doorstep – a fellow outcast called Pax – his life grows even more complicated.
Sal goes on to develop an unlikely friendship with Pax, whose love for all things spooky drew him to the house and its inhabitants. But as the two grow closer, the true nature of the hauntings is gradually revealed.
Will Sal find the courage to conquer his ghosts, or will he risk losing Pax for good?
A cosy, contemporary romance and ghost story with spooky Gilmore Girls vibes!
Read chapter 1 of THE OTHER ONES

Since the world fell sick with fantastical illnesses, sisters Payton and Ani have grown up in a hospital.
When Ani stumbles upon an imprisoned boy who turns everything he touches to gold, her world is turned upside down.
The sisters find themselves outside the hospital for the first time, a dark mystery unravelling around them …
The second astonishing novel for upper middle-grade readers by Angharad Walker, author of critically acclaimed The Ash House.
Read chapter 1 of ONCE UPON A FEVER

When there's a murder in Twinhills and a hag is heard howling at the inn, Raven Charming realizes she may not be the only secret witch in the village.
She could have a rival – one who practises the worst kind of magic. With the help of amateur sleuth, Mortimer Scratch, and Nightshade, a talking cat with a feline sense of detection, she sets out to solve what's been going on …
Bestselling middle-grade author Nicki Thornton, author of The Last Chance Hotel, embarks on a fantastical new mystery series following beloved Nightshade, the talking black cat, on a brand new adventure.
Read chapter 1 of THE HOWLING HAG MYSTERY

From the Waterstones Prize-shortlisted author of Our Castle by the Sea comes a gorgeously gothic story, perfect for fans of Emma Carroll and Frances Hardinge.
On a poor farm surrounded by marshlands, six sisters – Grace, Willa, Freya, and triplets Deedee, Darcy, and Dolly – live in fear of their father. Their beloved grandmother tries to protect them, but the future seems bleak.
When the Full Moon Fayre makes a rare visit to Hollow-in-the-Marsh, the girls slip out to see the famous Shadow Man, an enigmatic puppeteer. Afterwards, oldest sister Grace is missing.
Can Willa save her sister from one fate, and yet outrun her own?
The thrilling new novel from acclaimed author Lucy Strange, author of The Secret of Nightingale Wood, The Ghost of Gosswater and the Waterstones Prize-shortlisted Our Castle by the Sea.
Read chapter 1 of SISTERS OF THE LOST MARSH

When Iseabail is employed by a wealthy merchant to be his daughter's companion, her life changes for ever.
Transported from her remote island home to the Scottish borderlands, Iseabail is unnerved both by her precocious young charge and the house's secrets: a hidden chapel, servants who speak in a foreign tongue, a mute stableboy. And then the merchant returns with a mysterious cargo. Why has Iseabail really been summoned here? And will she ever make it back home?
A stunningly atmospheric YA Elizabethan horror set in the Scottish borderlands; Jane Eyre meets Susan Hill with a YA twist. 
Read chapter 1 of THE PURE HEART