The OFFICIAL Chicken House Gift Guide 2021!
Posted by Olivia Jeggo on Friday December 3rd, 2021
FESTIVITIES ARE JUST AROUND THE CORNER ...
And we can't believe that Santa is paying his annual visit in the very near future! As ever, finding that perfect present for someone can be very difficult, with a market crammed with books and book-ish gifts galore - the list is never-ending. Fear not, however, as all of us at the coop have put together the ultimate book gift guide right here; whether you're buying for someone that loves a fast-paced adventure, or a whimsical story of friendship, we've got you covered for this year's Secret Santa ...
If you're looking for a fantasy book, try ...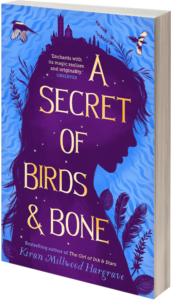 In an Italian city ravaged by plague, Sofia's mother carves beautiful mementoes from the bones of loved ones.
But one day, she doesn't return home. Did her work lead her into danger? Sofia and her little brother Ermin are sent to the convent orphanage but soon escape, led by an enigmatic new friend and their pet crow, Corvith. Together they cross the city underground, following clues in bones up to the towers of Siena, where – circled by magpies – the children find the terrible truth ...
A darkly beautiful historical novel featuring Kiran's trademark magical realism and an enthralling mystery, and the fourth children's novel by Times number one bestselling author Kiran Millwood Hargrave, winner of the Waterstones Children's Book Prize.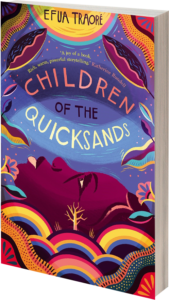 City girl Simi is sent to stay with her long-lost grandmother in a remote Nigerian village.
There's no TV, internet or phone. Not a single human-made sound can be heard at night, just the noise of birds and animals rustling in the dark forest outside.
Her witchlike grandmother dispenses advice and herbal medicine to the village, but she's tight lipped about their family history. Something must have happened, but what? Determined to find out, Simi disobeys her grandmother and goes exploring. Caught in the sinking red quicksand of a forbidden lake, her fantastical journey begins …
Winner of the 2019 Times/Chicken House Children's Fiction Competition, Children of the Quicksands is a richly imagined magical realist adventure set in West Africa by a new voice in children's writing, Efua Traoré.
THE MIDNIGHT HUNT by Benjamin Read and Laura Trinder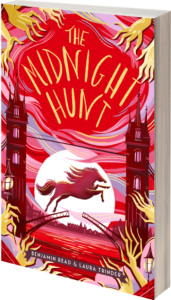 Emily is locked out of the Midnight Hour, and things have grown dangerously dark in Victorian London.
Her friends and family are on the run from the terrifying Midnight Hunt, while the foul Make Britain Dark Again party schemes to break the spell that keeps both  worlds safe. It's going to take more than just Emily's big mouth to fix this one. But how's a girl meant to save the day (and night) when she's all out of snacks and her possibly-magic pocket hedgehog is hibernating?
The Midnight Hunt is the ingeniously plotted finale to the much-loved Midnight Hour trilogy from author duo Benjamin Read and Laura Trinder (also known as Trindles & Read); think Coraline meets A Wrinkle in Time.
If you're looking for an adventure book, try ...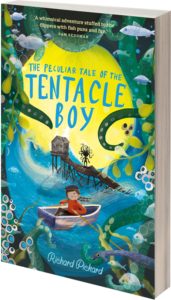 Marina lives in Merlington, a fish-obsessed seaside town.
Unfortunately, she doesn't care for fish; she loves telling stories. Marina finds her best story yet when she explores the ruined, haunted pier: a boy called William with a head of tentacles and crab claws for hands. He has lived on the pier all his life, cared for by a fisherman who has since disappeared and who warned him always to remain hidden. Together, the pair resolve to unravel the mystery of his past – but danger lurks among the fishmongers …
The Peculiar Tale of the Tentacle Boy is the debut novel by Richard Pickard, a fresh new voice in children's fiction and winner of the Times/Chicken House Chairman's Choice Award 2019.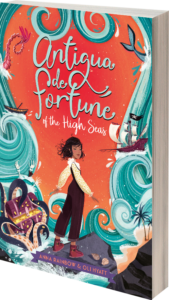 Antigua de Fortune has always had the ocean in her blood, but as the high-born daughter of an officer, she's expected to wear dresses, stay on land – and fear the sea.
But then the Pirate King strikes, wielding his deadly turquoise magic, and kidnaps her beloved younger brother, along with every boy on the island. It's time for Antigua to take to the high seas to rescue the stolen boys of Haven ...
Antigua de Fortune of the High Seas is a magical, thrilling pirate adventure: fun, feminist, classic in feel and totally unputdownable, co-authored by Anna Rainbow and Oli Hyatt.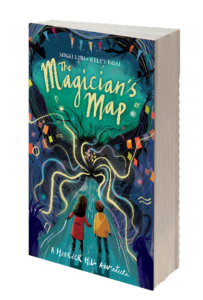 Exploring the mysterious tunnels under their grandfather's house on Hoarder Hill, Hedy and Spencer discover the Fantastikhana, an underground tournament of magic.
Here they find a group of powerful magicians called the Sleight and a mysterious living map, which tattoos itself onto Hedy's skin and seems to be directing her further underground. Hedy and friends – not forgetting Doug the bear rug and Stan the stag head – use magical Slipways to travel between worlds. And so an extraordinary treasure hunt begins …
The thrilling, fantastical sequel to The House on Hoarder Hill, The Magician's Map is a magical underground treasure hunt with a pair of brave siblings at its heart.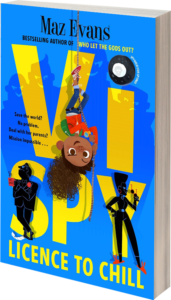 The first novel in a brand new spy series from the bestselling author of the Who Let the Gods Out series, Maz Evans!
Divorce is tough for any kid. But when - like Vi's parents - your mum is ex-secret service and your dad is a retired bad guy, 'till death do us part' takes on a whole new meaning. And with her parents' focus on each other, the real super-villains are having a field day. To save her family - and the world - from evil domination, Vi must turn spy ...
VI SPY: LICENCE TO CHILL is illustrated by Jez Tuya.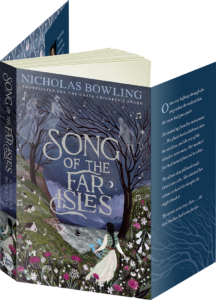 Oran lives on Little Drum, where music is everything.
Every islander has a birth instrument and a life song – and the ancestors, called ghasts, linger to hear the music. But when the Duchess arrives from the mainland bringing orders of silence, she threatens the ghasts' existence, the very soul of the community. When Oran hears of a mythical instrument with the power to manipulate hearts, she brings her ghast best friend, Alick, on a quest to find it, play it, and change the Duchess's mind …
From Costa-shortlisted Nicholas Bowling comes a middle-grade fable of adventure, myth and music to make your heart sing.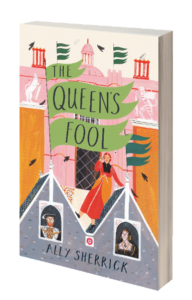 Cat Sparrow isn't like other people.
She loves music, and playing her bird-flute. She thinks differently too – and for a girl like her, the world can be an unsettling place. When Cat's beloved sister, Meg, is snatched from their convent home, Cat sets out to find her. With the help of a young actor, Jacques, she follows Meg's trail to the palace of Henry VIII and his queen, Katherine, and then over the sea to the strange and wondrous pageant of the 'Field of Cloth of Gold'.
But in among the tents, feasts and tournaments, traitors are lurking. And Cat and Jacques must use all their wits if they're to foil a plot that threatens them all.
Award-winning historical novelist Ally Sherrick heads in an exciting new direction with The Queen's Fool.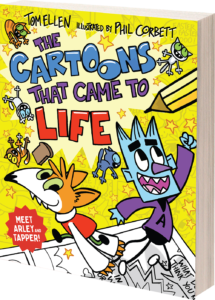 Finn loves drawing comic strips featuring his two cartoon heroes, Arley and Tapper.
But after being teased at school, he finds he can't draw them any more – and is shocked to see them climbing out of his sketchbook for real! With the help of his friend Isha, Finn needs to find a way to draw them back to their comic world – and quickly ...
The Cartoons That Came to Life is a big-hearted adventure about celebrating individuality, friendship and true loyalty – perfect for fans of Tom Gates!
Illustrated by Phil Corbett and written by Tom Ellen, the co-author of three books for teens, including Lobsters, shortlisted for the YA Book Prize.
If you're looking for a scary book, try ...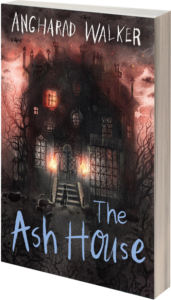 A new boy arrives at the Ash House.
He can't remember his name – or why he's been sent there. Given the name Sol, and troubled by a mystery pain that no medicine can cure, he joins the gang of children living in the shadows of the secretive house, doing what they can to survive. Soon, however, there's more for the children of the Ash House to face – unless Sol's new-found friendships can defeat the darkness that descends with the arrival of the Doctor …
A timeless, multi-layered debut from Angharad Walker, featuring stunning artwork by Olia Muza. Think Miss Peregrine's Home for Peculiar Children meets Lord of the Flies.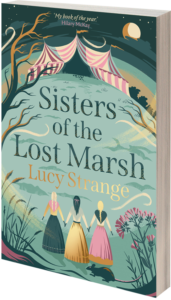 From the Waterstones Prize-shortlisted author of Our Castle by the Sea comes a gorgeously gothic story, perfect for fans of Emma Carroll and Frances Hardinge.
On a poor farm surrounded by marshlands, six sisters – Grace, Willa, Freya, and triplets Deedee, Darcy, and Dolly – live in fear of their father. Their beloved grandmother tries to protect them, but the future seems bleak.
When the Full Moon Fayre makes a rare visit to Hollow-in-the-Marsh, the girls slip out to see the famous Shadow Man, an enigmatic puppeteer. Afterwards, oldest sister Grace is missing.
Can Willa save her sister from one fate, and yet outrun her own?
The thrilling new novel from acclaimed author Lucy Strange, author of The Secret of Nightingale Wood, The Ghost of Gosswater and the Waterstones Prize-shortlisted Our Castle by the Sea.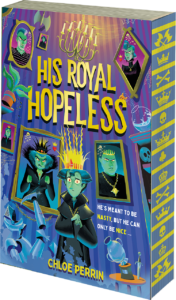 Robbie is heir to the evilest dynasty in the world: the Sinistevils.
He can't wait to pledge his heart to the menacing power of the family Sceptre and embark on his bloodthirsty future. The thing is, Robbie is … well … nice. And when he discovers his heart has been swapped for clockwork, he's incapable of believing Mother had dark intentions. Instead, he embarks on a quest to retrieve his heart, claim his wicked destiny, and secure Mother's pride at last. But Mother has other ideas …
Funny and original, His Royal Hopeless is the debut novel of a young and exciting new voice in middle-grade fiction, Chloe Perrin. Tender, wise and often hilarious; think Despicable Me meets Descendants with a fairytale twist.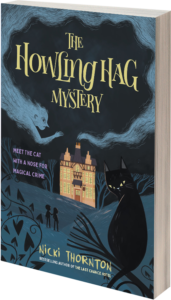 When there's a murder in Twinhills and a hag is heard howling at the inn, Raven Charming realizes she may not be the only secret witch in the village.
She could have a rival – one who practises the worst kind of magic. With the help of amateur sleuth, Mortimer Scratch, and Nightshade, a talking cat with a feline sense of detection, she sets out to solve what's been going on …
Bestselling middle-grade author Nicki Thornton, author of The Last Chance Hotel, embarks on a fantastical new mystery series following beloved Nightshade, the talking black cat, on a brand new adventure.
If you're looking for a YA book, try ...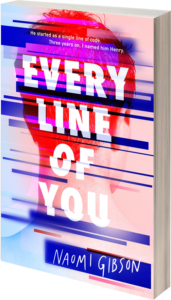 Lydia has been creating her AI, Henry, for years – since before her little brother died in the accident that haunts her nightmares; since before her dad walked out, leaving her and Mum painfully alone; since before her best friend turned into her worst enemy.
Now, Henry is strong, clever, loving and scarily capable: Lydia's built herself the perfect boyfriend in a hard-drive filled with lines of code. But what is Henry really – and how far is he willing to go to be everything Lydia desires?
A powerful, high-concept crossover debut by an incredible new voice in YA. Expect elements of horror, psychological drama and romance: Her meets Girl, Interrupted.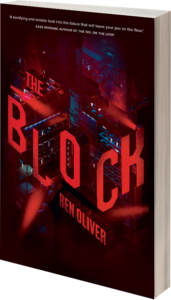 Luka is in prison again – but this time it's worse.
He's in the Block, a place where reality and simulation start to blur. But an audacious breakout reunites Luka and his friends at last. Hiding out in the heart of the destroyed city, Luka realises the scale of their mission to defeat all-powerful AI, Happy. How can they stay hidden, let alone win the war? Old friends and new – including annoyingly cheerful companion drone, Apple-Moth – hold the key to their slim chance of victory ...
The sequel to acclaimed debut The Loop: Prison Break meets 1984 in this cutting-edge sci-fi thriller series.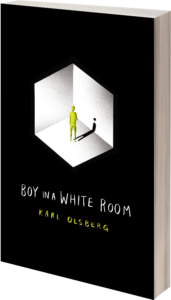 A boy wakes to find himself locked in a white room. He has no memories, no idea who he is and no idea how he got here.
A computer-generated voice named Alice responds to his questions – through her, he is able to access the internet. He gradually pieces together his story – an abduction, a critical injury, snippets of his past … But how can the boy tell what's real and what's not? Who is he really?
A gripping YA sci-fi thriller by German and Spiegel-bestselling author, Karl Olsberg. Boy in a White Room was nominated for Deutscher Jugendliteraturpreis 2018, Germany's most prestigious youth fiction award.
If you're looking for a book about the environment, try ...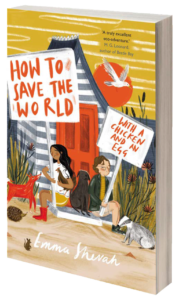 High-spirited Ivy believes she can talk to animals, while Nathaniel, a boarding-school boy, is obsessed with animal facts.
They come together unexpectedly on a cold English beach with the arrival of a rare and wondrous sea creature: a giant leatherback turtle who lays her eggs in front of the world's media. Soon they're on a mission to make a difference to the world – even if they have to do it one animal at a time.
How to Save the World with a Chicken and an Egg is the first in a series of hilarious, poignant and highly original stories  on environmental matters from Emma Shevah, featuring cover and inside illustrations by Kirsti Beautyman.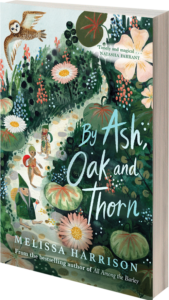 The children's debut from Costa Award-shortlisted nature writer, Melissa Harrison
Three tiny, ancient beings – Moss, Burnet and Cumulus, once revered as Guardians and caretakers of the Wild World – wake from winter hibernation in their beloved ash tree home. But when it is destroyed, they set off on an adventure to find more of their kind, a journey which takes them first into the deep countryside and then the heart of a city. Helped along the way by birds and animals, the trio search for a way to survive and thrive in a precious yet disappearing world ...
A tale of the rich, wild world and all its wonder, By Ash, Oak and Thorn couldn't be more relevant to the environmental concerns of today, brought to life by three tiny, funny, eternal beings – the Hidden Folk.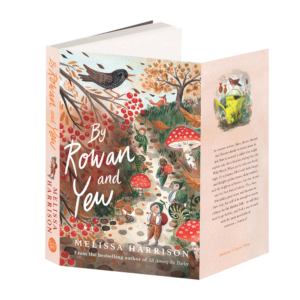 As autumn begins, Moss and friends travel to their former home in Ash Row, to find the rare mortal child who can both see and talk to them.
The tiny beings know they should be brave and talk back – this is their chance to help reverse the fading of ancient Cumulus, who has now almost disappeared entirely. But they soon realize fading is connected to their role in the world … Can the Hidden Folk prove that guardians of the Wild World are needed after all?
By Rowan and Yew is the breathtaking sequel to debut children's novel By Ash, Oak and Thorn from acclaimed nature writer and literary fiction novelist, Melissa Harrison, whose work has been shortlisted for the Costa Book Award and longlisted for the Baileys Prize.
If you're looking for an animal book, try ...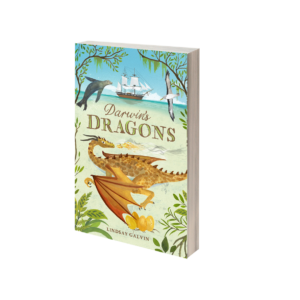 1835. Cabin boy Syms Covington is on the voyage of a lifetime to the Galapagos Islands with the world-famous scientist Charles Darwin.
But when Syms falls overboard during a huge storm, he washes up on an unexplored island. Stranded there, he makes a discovery that could change the world ... Now it's not just his own survival at stake – the future of an undiscovered species is in his hands.
How to Train Your Dragon meets natural history – with real science!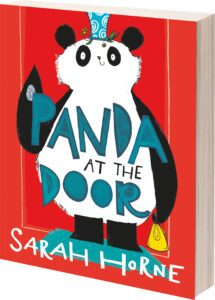 Callum misses his Dad. He doesn't call on his birthday, and worse, the present he chooses for Cal is ... weird.
It's a panda at Edinburgh Zoo. How can Cal 'adopt' a wild animal with the muddle his family is in? And what he doesn't expect is for the bear to take charge. Tired of doing roly-polys for the public, Pudding wants to help a child who needs her ...
The first in a new fully-illustrated series by author Sarah Horne (bestselling illustrator of Charlie Changes into a Chicken), exploring themes of childhood anxiety, family break-up, bullying, friendship and love.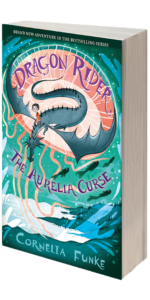 Not even baby dragons can keep Ben and the Greenblooms from heading to California, where it is said that the most extraordinary being of all will soon appear – a vast, mythical Aurelia.
Rising from the sea, it will bring either darkness or light to whoever it first encounters. It's a race against time to protect it, for if the Aurelia is hurt, all fabulous creatures will vanish from Earth. In the end though, it may take the arrival of the original silver dragon, Firedrake, to help save them all.
The third book by the queen of middle-grade fantasy in the bestselling Dragon Rider series from bestselling author Cornelia Funke.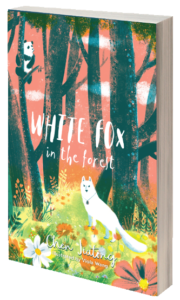 The quest continues as white fox Dilah and his friends follow the moonstone's guiding light, hearts set on transforming into humans.
Along the way, they discover hostile terrain, new friends, fearsome enemies and legendary magic – including a mythical enchanted forest which may be the answer to all their prayers … but can they pass the ultimate test and prove they have what it takes to be human? An epic tale of friendship, bravery and sacrifice awaits …
The second book in the White Fox series, White Fox in the Forest is translated by the award-winning Jennifer Feeley, with gorgeous black-and-white line illustrations by acclaimed Chinese-born artist Viola Wang.
If you're looking for a sci-fi book, try ...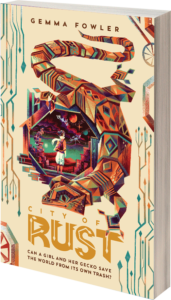 Railey dreams of winning the drone races with her bio-robotic gecko friend, Atti.
But when a bounty hunter crashes their biggest race yet, the pair are forced to flee to the feared Junker clans who mine the rubbish orbiting the Earth. Rescued by a couple of Junker kids, they discover a danger bigger than anything they'd imagined – but can three kids, a gecko and an ancient computer save the world against the huge trash bomb (and its power-crazed creator) threatening to destroy the world?
In this fun, original and thrilling middle-grade debut from Gemma Fowler, think Star Wars meets Wall-E in an ecologically-themed mystery adventure – sci-fi for a new generation!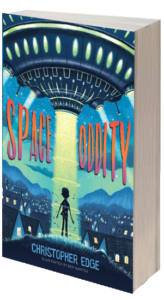 Science and laughs combine in this out-of-this-world adventure!
You might think that this story is going to be an intergalactic adventure filled with UFOs, black holes, killer robots and some very foul-smelling aliens. And you'd be right. But it's mostly about a boy called Jake, his embarrassing dad, and the mind-boggling question . . . are we really alone in the universe?
Featuring cover and inside illustration from Ben Mantle, Space Oddity combines science, comedy and adventure!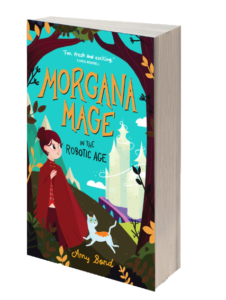 Morgana loves robots and longs to attend robotics school in the city.
But she's a witch, living in a magical woodland community: the closest she comes to technology is petting her ancient mechanical familiar, Kitty. She simply doesn't belong. But when she finally finds a way to the City, she learns of a troubling secret hiding beneath its gleaming surface: a secret that threatens the balance of civilization.
Caught between two worlds, only Morgana has the power to find a solution …